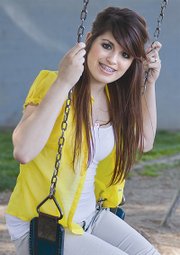 Improving the image of Sunnyside is something 2011-12 Miss Sunnyside candidate Eveth Padilla feels is important.
She believes she can help community members feel a sense of pride, while also projecting a positive image of Sunnyside to those who don't live here.
That is why Padilla is vying for the Miss Sunnyside title.
Her goal is to improve the community's image by helping the city paint over graffiti and pick up trash left by careless citizens.
"If I am Miss Sunnyside, I would want my court to volunteer to work with the city of Sunnyside...improving the image of the city," said Padilla.
"It would be a great way to help our community," she said, stating graffiti and trash are a blight on Sunnyside she wants to eliminate.
"It ruins the way people living here feel and it ruins the image others see...I want the community to be proud of itself," said Padilla, adding, "Graffiti and trash show a lack of respect for where we live."
Padilla is the oldest of four children. Her mother is Juana Marquez.
She said her mother has taught her to take pride in all she does and where she lives.
Padilla will be a junior at Sunnyside High School during the 2011-12 school year and is a member of the school orchestra in which she plays the viola. She is also a Pep Club member and a basketball team member, as well as a hair and make-up artist for the drama program.
Because Padilla has played the viola since she was in the fifth grade, she has become very skilled with the instrument and plans to perform the second and third movement of Vivaldi for the Miss Sunnyside Pageant.
Math is her favorite subject in school, and she plans to join the Navy after high school to begin a path into the medical profession as a nurse.
"I want to be a nurse in the Navy to earn a medical scholarship," Padilla said.
"I have it all planned out," she said, stating she wants to first pursue a medical degree and an engineering degree after.
Padilla said engineering would be a "back-up" career.
"I like to help others...that is why I want to get my medical degree," she said.
Padilla's sponsors for the 2011-12 Miss Sunnyside Pageant are Fashion Corner and Alex's Barber Shop.