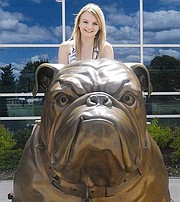 To say Jenny Hall of Sunnyside is ambitious about becoming a doctor is almost an understatement.
The Zillah High School sophomore-to-be already has several college credits under her belt because she chooses to reach out and grab any opportunity to pursue her career.
Hall, who is just 15-years-old, said she wants to stand out when she applies for college.
As a result, she searches the web for educational advantages, like a two-week camp at Georgetown University in Washington, D.C. she will be attending at the end of this month.
At the camp, Hall said, she will receive training from medical personnel ranging from EMTs to emergency physicians.
The camp is sponsored by Lead America and is intensive.
"We will receive EMT training, patient simulations, shadow nurses and doctors...we will learn about human anatomy, how to insert IV lines and provide full patient care," said Hall.
The simulations will be conducted using both humans and high-tech robotics, giving students at the camp a high degree of education.
Hall is one of only 50 high school students selected from across the U.S. to participate in the camp.
"We will work with doctors and nurses on an ER floor and we will be presented with a medical outbreak," she said, stating the students will during the camp have to learn how to determine the cause of a widespread medical crisis.
The students will have to diagnose the condition suffered by a number of patients and determine the how to treat and prevent the crisis from spreading further.
Hall said last week she participated in another program for students interested in entering the medical field. That program was hosted by Gonzaga University.
"I learned about the business side of health care," she said of the program.
Hall said she isn't as interested in the business aspect of her chosen field, but the experience was insightful.
"I am interested in surgery...I think I either want to be a surgeon or an ER doctor, but I'm not yet set on my specialty," she said.
Her mother, Karen, said the teen is driven to succeed.
"Knowing her desire to enter into the medical field, she persists and seeks these opportunities on her own," said Mrs. Hall.
She said the teen applies for the opportunities entirely on her own.
"We won't push her, but we support her," said Mrs. Hall.
As a result of the teen's pursuits, she has earned two college credits from the program at Gonzaga University. She will also receive two college credits and an advanced CPR card from the camp at Georgetown University.
Mrs. Hall said the youngster has been taking advanced courses in high school, as well as online college classes to further advance her aspirations.
The 15-year-old said, "My ambitions are to excel and in addition to the advanced classes, I want to be a well-rounded student."
This summer, for example, she is taking an online psychology course and a digital photography class.
"I am hoping colleges will notice me," said the younger Hall.
The camp at Georgetown University will cost Hall $3,500 plus airfare. She is seeking sponsors for the venture and can be reached through her mother at 509-831-3650.