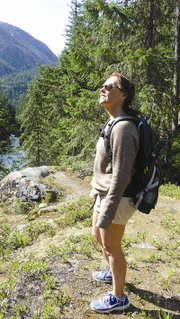 In general I consider myself to be a hard worker. I show up for work every day on time and I make sure everything keeps moving on the job.
But lately I didn't realize how tightly wound I had become until my wife suggested that we try a weekend getaway.
Immediately I responded with what do you mean? Where will we go? How do we get there? What will happen at work? I'm so lucky to have a great woman because right then she just slapped me. It's so easy for us to forget what's really important in our lives and what's important is our own well being. It's true, I had lost my happy!
So I set out on a quest. My wife Kathy and I both have a natural affinity and love of the Cascade Mountains so our first inclination was to plan an inexpensive trip somewhere below the snowline.
This was going to be one of those trips in which we set a destination but we didn't know what we were going to do or where we were going to stay.
We were going to load up our backpacks with the odd essentials and head off to our destination or wherever the road led us.
Well, almost.
The more we thought about it the more realistic we became and after a little research and reading we decided to go up to the Stehekin Valley.
If you have never been there it is a definite must see. The valley has something for everyone. There are nice cabins or rustic campsites, restaurant or a general store, tour buses, biking or hiking, fishing, kayaking, canoeing, I could go on and on. Yes, this is truly a place where I thought my happy might be hiding.
We decided to mix things up a little and experience something between a rugged adventure and casual lounging. That meant starting our trip off by a leisurely cruise up Lake Chelan on the Lady of the Lake. The boat ride took several hours and made a few stops along the way to let groups of passengers or the occasional backpackers board the boat. The captain even stopped the boat near the water's edge so we could observe a family of mountain goats that was lingering near the shoreline.
We arrived at Stehekin around 12:30 p.m. and checked into the Stehekin Resort. Not wanting to waste any time we first started up the trail to Purple Pass.
I'd classify this trail as difficult because it is very long and climbs very high in elevation. The weather was great and the fact that Stehekin isn't extremely high in elevation makes for some warm climate. Best of all, there were no bugs!
The next day was more kicked back because we rented some mountain bikes from Discovery Bikes and caught the bus up to the top of the valley (about a nine mile ride).
Not only was the proprietor of the bike shop a fourth generation Stehekin resident but I soon learned that many of the residents in the valley were related to some of the original homesteaders.
The bus dropped us off at a place called the "high bridge." This bridge is on the border of the North Cascades National Park and spans the Stehekin River.
From there we continued riding up into the national park as far as the road would allow and we took advantage of a few really nice hikes along the way. One hike in particular was to a place called Coon Lake.
I passed a local fishing guide on my way back from the lake and was happy to learn that there were some nice brook trout in the lake (great, I left my fishing pole back in Stehekin).
I would also recommend taking the Agnes River hike up into the Glacier Peak Wilderness. The view from the trail keeps getting better and better all the time.
And before I forget, let me mention that one of the best reasons for taking the bus up the valley is that the 12 or so mile ride back to Stehekin is virtually all downhill on a fairly well maintained road.
The best feature of a trip up to Stehekin is the atmosphere and the people. It was very reminiscent of stories I've heard about the early 1900s in which people were friendly towards one another and I was comforted by the fact that folks in the valley were willing to occasionally cast a smile in my direction.
At Courtney's Ranch we stopped to get something to drink before heading all the way back down the valley. These were the nicest, most hospitable people I have met in a long time. We enjoyed some lemonade at the ranch and instead of charging us for the drinks they even paid us with a smile.
I walked away from that experience with a very strange feeling indeed. I mentioned the feeling to my wife and she suggested that I might be getting closer to finding my happy. Still, I wasn't convinced, and I knew I had to dive further into my search.
On our way back to the resort we stopped at the old Stehekin school house (a one room log cabin out in the middle of the woods) and a massive waterfall called Rainbow Falls. The falls was experiencing a particularly large winter snowmelt which resulted in a pretty spectacular display of cascading water and rainbow mist. The falls certainly lived up to their name.
Our last stop in the valley was at the Stehekin Bakery. I'm the type of guy who typically doesn't eat pastry because I'm always worried about my weight and cholesterol but I really couldn't resist getting a carrot cake muffin.
I thought it was delicious but I will never let any of my friends or family know I let my sweet tooth get the better of me. It's one of those - what happens in Stehekin stays in Stehekin moments.
We got back to Stehekin around 4 p.m. (we left at 8 a.m.) and rode into town a little tired but pretty much refreshed from a very full day of pure fun. We turned in the bikes, got cleaned up and then had a nice dinner at the restaurant.
Feeling very fulfilled I went down to the lake and thought I'd give some fishing a try. There is a public boat dock down the road a few yards and I decided to try my luck there.
I stood on the dock and was casting my line into the pristine water and reeling it back slowly.
Cast after cast I tried to catch a fish, all the while feeling very content with myself when all of a sudden I looked down into the water and there it was. There was my happy. It was sitting there right in front of me all the time.
In the water I saw the reflection of the guy that I once knew as a content and happy person who had almost forgotten how to smile. But there I was looking at my reflection with a grin from ear to ear. Yep, I had found my happy and I now have that memory to fall back on when things get a little too hectic in my life.
In Stehekin I managed to spend some really great times with my wife, we got to share some laughs and got back to being the people we once were. We definitely found our happy in Stehekin and I'm certain that you can find yours, too.
If you'd like to know more about this trip please feel free to contact me through my website at www.pappgems.com. I'd be happy to answer any questions you might have (free of charge).
Good luck and good fortune.
- Ivan Papp is co-owner of www.pappgems.com