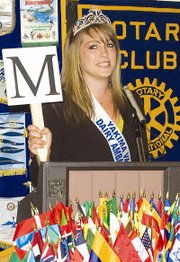 Give me an M! Give me an I! Give me an L! Give me a K! What does it spell? Milk!
Yakima Valley Dairy Ambassador Sabrina Mensonides used her skills as a Sunnyside Christian High School cheerleader to explain the benefits of dairy products at Monday's Sunnyside Noon Rotary Club meeting.
"Milk is nature's most perfect food," she told the Rotarians.
She held up letters spelling out milk and described what each letter meant to her.
M is for memories. Mensonides grew up on her family farm outside of Mabton and hasfond memories working with cows.
I is for interesting facts. She claimed that youths that grow up on farms have a better immune system.
"Farm kids get more exercise than their counterparts," she said.
She also claimed the asthma rate for farm kids is much lower than that of city kids.
L stood for labor and how many jobs the dairy industry fuels.
Mensonides said there are 72 dairies in Yakima County with approximately 95,000 cows. Yakima County is in the top 10 counties in the United States for producing milk. Here in Yakima County dairy farmers produce 2.1 billion pounds of milk, which makes up 38 percent of the total milk produced in Washington state.
The dairy industry also produces jobs. She said the dairy industry needs milkers, bankers, feeders, hay growers, hay and silage packagers, veterinarians, repair stores and the list goes on.
K is for kids, as well as adults. Mensonides said the dairy industry has been promoting three servings of dairy products a day and at least 30 minutes of exercise.
"By the time a student graduates from high school their bones are 90 percent established," she said. "It's very important to get the daily recommendation of dairy products every day."