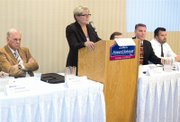 YAKIMA - "No!!"
That was the first of many public comments last night, Thursday, opposing the U.S. Postal Service's proposal to move mail processing from Yakima to Pasco.
A standing-room only crowd of more than 200 people packed a meeting room at the Howard Johnson's in Yakima. The room was so full some had to stand outside in a nearby hallway.
A parade of testimony followed a brief USPS promotional video and explanation about the move.
One after the other, all commenting last night opposed the idea. Others shouted catcalls from the audience, venting their frustrations.
Many of those taking the comment podium were postal employees in Yakima worried about the 19 employees who would lose positions there, despite assurances that employees could move to postal job openings elsewhere.
"We're not just talking about 19 employees, but 19 families with spouses who work," said Edward Douglas, a Yakima postal employee.
Douglas pointed to impacts on the local tax base, as the 19 positions that could be lost here represent about $1 million in lost income.
Other comments came from the Yakima business community, ranging from a banker to a pharmacist, concerned about potential delays in getting mail to and from their customers.
"The mail is our bloodline," said Dick Steltzmiller of Yakima Federal Savings and Loan.
Steve Noble runs a printing business in Yakima and he said the postal service will likely lose the $500,000 or so he spends each year on direct mail processing.
Mail delay was a consistent theme, as there are worries the back-and-forth mail trek from Yakima to Pasco will cause mail delivery to be at least an hour late.
That in turn, many worried, could cause a disruption to customers and overtime hours that would undo the $1 million savings USPS says the move to Pasco would bring.
There were also concerns the Yakima Valley would lose the ability to have next-day mail delivery.
"We are concerned about the proposed move to Pasco," said Lisa Smith of New Vision. "We question the logic and methodology."
The postal service at times shot itself in the foot, even as it tried to ease the crowd's worries.
A district manager from Seattle, Katherine Nash, for example, insisted the postal service is losing $500 million a day. She finally had to backtrack from the figure when challenged late in the meeting by a postal employee.
That the postal service is losing money there is no doubt, as losses last year were in the $8 billion range.
The message from Yakima County, though, is that cutting mail processing here is not the way to make a dent in the losses.
Willie Pride recently moved to Yakima and he was one of several residents who spoke up.
He spoke with fervor and zeal on behalf of his adopted hometown.
"Look deep within yourselves before you leave tonight," he told the seven postal officials presiding over the meeting. "Don't close the door on Yakima."