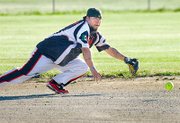 The Lower Valley Men's Softball team Pure Mayhem/Sports Center swept both of its doubleheaders this past Tuesday and Thursday in league action.
Pure Mayhem/Sports Center beat up on Bob's Drive-In/Crush 5-1 in the opening tilt on Tuesday and then forced the 10-run mercy rule in the nightcap by winning 16-1.
"We came together as a team," said Joe Trevino, coach of Pure Mayhem/Sports Center.
Trevino pointed out the play of Jeff Bently, Bob Garza and Adrian Jasso in the first game.
On Thursday Pure Mayhem/Crush swept Columbia Crest by scores of 17-1 and 13-8. In this doubleheader Trevino praised the play of Steven Sanchez, Marty Guillen and Fidel Castro Jr.
The season is done for Pure Mayhem/Sports Center except a make-up game they will play against Bob's Drive-In/Crush on Wednesday, July 27.
Bob's Drive-In Coach Martin Sanchez said his team just wasn't hitting the ball well against Pure Mayhem/Sports Center this past Tuesday night. There were some good defensive plays, most notably from Bob Sarmiento Jr., who snagged a ground ball near second that he turned into a double play.
Bob's Drive-In/Crush didn't play on Thursday, but will have three make up games next week. On Tuesday, July 26, Martin said his team will play Pure Mayhem/Sports Center; and on Wednesday, July 27, and Thursday, July 28, his team will play Team Impact.