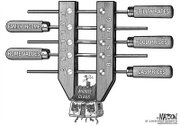 All across Central Washington, school is out, summer is in full bloom and the 2011 harvest is underway.
The higher temperatures invite trips to the Columbia River Gorge for water sports, hikes through the Wenatchee National Forest, white water rafting down the White Salmon River, a day at one of Central Washington's vineyards and fishing trips to Lake Chelan. But as in years past, the warmer weather and the promise of summer vacation drives up demand - and the price - for gasoline.
So far, the 2011 summer is bringing historically high gasoline prices, and will certainly discourage people from touring our region.
Historically, Americans have spent about 8 percent of their overall retail purchases on gasoline and other gas station related items. Earlier this year, that number hit 11 percent. This is unacceptable. We want to spend our money on our families and summer vacations, not filling the tank.
High gasoline costs impact all families and disproportionately affects rural areas like Central Washington. Farmers and growers spend an average of 58 percent more on energy as a percentage of income than their urban counterparts, therefore those of us in the Yakima Valley or Columbia Basin feel the pain at the pump far more than our friends to the west in Seattle or Tacoma.
Last month, President Obama made another job-destroying decision to tap the Strategic Petroleum Reserve. I have always said that this reserve is intended for situations when there's a dramatic supply shut down, not to achieve a short-term political gain. This is however, a clear admission from the Obama Administration that increasing domestic oil supplies will help lower costs. Rather than tapping the Strategic Reserve, which will weaken our national security, we should look to develop our true oil reserves in the Gulf, Alaska, the Outer Continental Shelf and our public lands in order to create jobs, lower prices, reduce our dependence on unstable foreign energy and strengthen our national security.
We can fix this problem, and I am working diligently as Chairman of the House Natural Resources Committee to expand American energy production. With lower gasoline prices, more people will be able to visit Central Washington, take in the unique beauty of our region and enjoy everything we have to offer throughout the summer.
- U.S. Congressman Doc Hastings (R-Pasco) represents Central
Washington's Fourth Congressional District.
More like this story