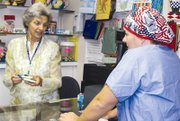 Do you have some free time? Do you like working with people? Are you able to operate a computer-friendly cash machine? Then Sunnyside Community Hospital wants to talk with you.
Karen Lemmon, a hospital volunteer and the gift shop manager at the hospital, said presently there are only nine volunteers for the gift shop.
"Most are older," Lemmon said of the volunteers. "With age comes health issues and some need time off for medical reasons."
Because of this, even though there are nine volunteers for the gift shop, shortages do happen. This week Lemmon is working five shifts.
"We need some more bodies," she added.
The day at the gift shop is split into two four-hour shifts, Monday through Friday. Just one person is needed for each shift.
"It's not a difficult job," Lemmon said. "Most of the time you can read a book. It's a very easy task to accomplish."
Job duties include selling retail items likes snacks or novelty items. The training is easy. The cash machine is set up so if a person wants a candy bar, the volunteer just pushes a button that says candy and the price is automatically rung up. Other duties include light dusting and replenishing stock.
With the four-hour shift comes other benefits. Each volunteer receives a free drink and a snack from the hospital cafeteria. Volunteers also receive reduced prices on medications and a 30 percent discount on all items at the gift shop.
Volunteers must be screened and a background check is required. Interested parties should contact volunteer director Carol Allen at 837-1627.
- Corey Russell can be contacted
at 509-837-4500, or email
CRussell@DailySunNews.com