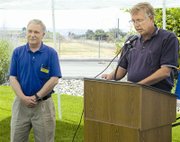 Recognized not only for his longevity as an employee, but for his efforts to improve its industrial wastewater facility, the Port of Sunnyside honored 15-year employee Bob Farrell during a barbecue this past Friday.
Farrell is an engineer for the port and was honored Friday for his "vital role in the numerous changes and extensive growth at the industrial wastewater treatment facility," Port of Sunnyside President Jeff Matson said in a prepared statement.
As port engineer, Farrell oversees projects and operations such as the wastewater facility's lab, sequencing batch reactors and a de-watering facility.
Matson also lauded Farrell's collaborative efforts with the Department of Ecology to help with water quality standards in the Yakima River.
Currently, Matson noted, Farrell is working with the Department of Ecology and the Army Corps of Engineers on a proposed wetland habitat for the Port of Sunnyside.