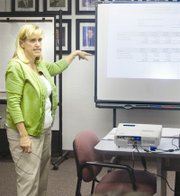 MABTON - A nearly 6 percent cut, including the elimination of 10 positions, was approved last night as part of the Mabton School District's budget for 2011-12.
Monday night's move to approve the $10.7 million general fund budget followed a public hearing to review it step by step with the school board.
Business manager Gina Grow presented the budget, which also shows about a 6 percent decrease in revenue at $9.8 million for 2011-12.
She said the biggest factor in declining revenue is the loss of federal stimulus funds and learning assistance money state lawmakers dropped.
The loss of some state and federal funding totaled more than $780,000. Grow said it was mitigated a little bit by the fact Mabton schools will receive an additional $127,000 in other state funds because of the district's poverty level.
As for staffing cuts, Mabton schools have eliminated 5.5 teaching positions and five classified staff posts. Superintendent Minerva Morales said nine of those cuts required the district to lay-off employees.
Those job losses are in addition to two part-time district office positions and a school secretary position cut during the previous school year.
Other reductions planned for the 2011-12 budget include trimming nearly $28,000 from the travel budget.
Grow told the school board that the cuts still won't be enough to balance the general fund budget, which covers most of the district's day-to-day costs.
She said the 2011-12 budget will actually see a net loss of $944,064, including $100,000 set aside for capital projects.
That's a bit of an improvement from 2010-11, when the district lost $1.15 million, but Grow encouraged the district to look at ways to get the bottom line closer to a break-even point.
That means more budget cuts might be in the offing.
"Our goal is to look at ways to see what is necessary and understand the choices we have to make," Grow told the board. "Cutting back such a big overage means either reducing staff or something else."