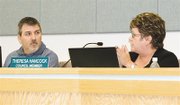 The Sunnyside City Council has been this month debating how agendas for standing subcommittees should be set.
The debate is not over as last night's discussion concluded with a consensus that further discussion is needed at the Monday, Aug. 1, city council workshop.
Being questioned is whether the facilitator can set the agendas or if the council as a whole should determine what is to be discussed at standing subcommittee meetings.
Standing subcommittees were established last year for finance and administrative services, public safety and public works.
In those meetings, three council members meet with city staff to discuss issues and operations of the various city departments.
For example, the public safety subcommittee discusses police operations, as well as the fire department's operations.
Mayor Jim Restucci worked with the city's attorneys recently to develop a revision for the subcommittee meeting ordinance.
The revision releases the subcommittees from the burden of holding meetings every month because it is not always necessary to hold a meeting on a monthly basis.
The revision also states the city manager or council as a whole decides agenda items.
"There was a concern regarding how agenda items are added to subcommittee meetings...this is a way to control agendas," said Restucci.
He said the subcommittee meetings were intended to allow council members to learn about the city's operations via department heads. It was a way for council members to hear the needs of various departments without bringing every issue to a workshop.
"There is a concern subcommittee meetings are being misused," said Restucci.
Deputy Mayor Nick Paulakis said there were concerns voiced by other council members at the Monday, July 11, meeting.
He said one issue that arose from that meeting was whether or not the power of individual council members was being taken away.
Paulakis said some council members believe they should have the ability to open discussions of their own desire.
Councilwoman Theresa Hancock said, "I prefer the agenda items be approved by council as a whole rather than a council member acting on their own."
She has had experience with council members adding agenda items at subcommittee meetings without her knowledge.
Councilman Mike Farmer said he believes the facilitator for the subcommittee should set the agenda, but Paulakis said it is easier to allow a department head to set the agenda because the head of a department knows best what is happening in that department.
Councilman Pablo Garcia agreed with Hancock, stating he feels the council should agree on what is being discussed during subcommittee meetings.
"This was supposed to be an educational tool," he said.
Garcia said there have been too many occasions when (new) ideas were brought up in subcommittee meetings and then brought to council.
"We were supposed to learn how departments work," he said.
Restucci, seeing there were various opinions regarding the agenda items for subcommittees, asked for the council members' consent to table the issue until the Aug. 1 workshop.