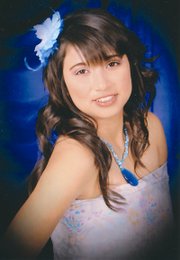 Sunnyside's Maria Elena Mojica is still seeking information regarding the whereabouts of her daughter Jessica Mojica Estrada, who turned 14-years-old this past April.
The teen has been missing since January and the Sunnyside Police Department issued a release this past March.
Estrada, said her mother, is believed to be pregnant.
"She should be about due to have her baby," said the distraught Mojica.
The mother has been seeking any information regarding the teen's whereabouts for several months.
A young boy provided her with a phone number approximately three months ago. She called the number and believes Estrada answered the phone.
"When she heard my voice, she hung up," said Mojica.
Police traced the number to Everett, but were unable to locate the 14-year-old girl.
Another recent incident involved a Sunnyside sighting of the missing teen. A neighbor believes she saw Estrada at a local gas station.
"She was pregnant, according to our neighbor...but she got back into the vehicle when she recognized our neighbor," said Mojica.
The mother said Estrada has a history of running away from home. The longest period of time the teen disappeared was 21 days.
"We just want her home," said a crying Mojica.
She said police have with no luck questioned a 19-year-old Sunnyside man believed to be the teen's boyfriend.
The teen is approximately 5'3" tall and weighed approximately 120 lbs. at the time of her disappearance.
She is listed with the Nationa Center for Missing and Exploited Children and the Washington State Patrol Missing Persons Unit.
"She has a 9-year-old brother who misses her, too," said Mojica.
Anyone with information regarding the teen's whereabouts is urged to phone the Sunnyside Police Department at 836-6200, the Washington State Patrol's Missing Persons Unit at 1-800-543-5678 or the National Center for Missing and Exploited Children at 1-800-843-5678.