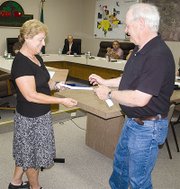 GRANDVIEW - With a downtown upgrade complete, the city of Grandview's next focus is on getting entrepreneurs to fill storefronts.
To that end the city is launching an effort called Grandview's EDGE, short for Encouraging Development of Grandview's Economy.
Mayor Norm Childress announced the effort during the city council meeting last night, Tuesday.
He said the city is willing to help get momentum rolling towards encouraging and supporting new business efforts, but EDGE will have to rely on a collaborative effort to succeed in the long term.
Childress said the partnership includes not only the city, but the school district, the Port of Sunnyside, YVCC, the chamber of commerce and merchants.
A step in that direction happened today when Grandview's EDGE held a meeting in downtown Grandview.
It's the first of what is hoped will be many meetings to encourage new business starts in downtown Grandview.
City Administrator Cus Arteaga said Grandview's EDGE is still in the early stages of formation.
He said part of the discussion underway now is the possibility of using the soon-to-be former Bleyhl Library building as an "incubator" to help new business ventures get off the ground.
It's a similar idea to what the Port of Sunnyside has been doing with some of its property on East Edison Avenue in Sunnyside.
In other discussion last night related to the Bleyhl building, Arteaga shared with council the possibility of continuing to house a museum in the old library building, but separate it so the rest of the structure could be used for other purposes.