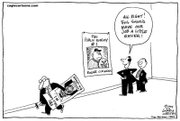 As the nation teeters on the brink of financial ruin, it's good to see our government focusing on the real priorities - getting steroids out of baseball. While we don't know if Social Security checks will get mailed this month, we do know that we have plenty of cash to go after Roger Clemens (though apparently not enough to do that very well).
Clearly Roger Clemens and countless others used performance enhancing drugs to become better baseball players or to prolong their careers. This represents a sin against baseball and an insult to the fans watching the games.
Clemens even went as far as volunteering to testify to Congress where he - most would believe - lied blatantly during hearings that never should have been happening in the first place. Yes, Clemens committed a crime, but a bigger crime comes when our government decides to hold unneeded hearings about trivial matters in order to distract us from our real problems.
The use of performance enhancing drugs damages the integrity of baseball - a game played by men in funny outfits, best watched while consuming more than one beer. Congress and the federal prosecutors who went after Clemens should have bigger things to worry about.
Our country faces war on multiple fronts, absurdly high gas prices and unending unemployment. Instead of dealing with those issues, Congress, elected officials and office-seekers attempt to distract us with a steady diet of meaningless drivel. When we should be talking lower taxes, creating jobs and rebuilding our economy, we're given steroids in baseball, abortion, prayer in school and other such nonsense.
I'm against steroids in baseball (unless we make every player take them), support the right to have an abortion and am against prayer in school. But, before I care about any of those issues, I'm in favor of paying my mortgage, having food in the refrigerator and being able to put gas in my car.
After that I think about whether my friends and family have those same things. Then, I think about being able to pay for college for my son, whether I will always have to work multiple jobs and, perhaps, will my town ever fix the left turn arrow on the stoplight in front of my condo complex.
Only after those and a million more mundane issues go through my head do I spend any time considering whether gay people should be in the military (of course they should) and whether pot should be legalized (yes on that too). I know that if I was a pro baseball player not taking steroids or a gay man who wanted to be a Marine, those issues would be key to me, but for most of us, they are just distractions.
To Congress, we're an annoying cat that wants to sit on everyone's lap. The Clemens case and the endless social issues debates are a laser pointer that we're supposed to tire ourselves out chasing.
Sadly, it works as most Americans ignore the real issues while becoming obsessed with the trivial ones. The hot button topics don't matter until we fix the economy. Whether it's gay marriage, abortion or Roger Clemens shooting human growth hormone into his behind - these are just ways to distract us while nothing changes and the economy continues to circle the drain.
- Daniel B. Kline's work appears in more than 100 papers weekly. An author, his newest book is "Worst Ideas Ever" (Worstideasever.com).