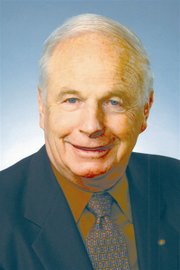 Dick Nafsinger, former president of Eagle Newspapers, Inc., under which the Sunnyside Daily Sun News operates, died this past Saturday, July 23, 2011, at the age of 77 from complications of pulmonary fibrosis.
Formerly the president of the National Newspaper Association, to his credit he met with two U.S. presidents while they were in office, and even sat in on Cabinet meetings with former President Jimmy Carter.
But equally important to him were the more regular "cabinet" meetings he participated in at the Hood River Elks Lodge or with his downtown coffee buddies.
A common thread throughout Nafsinger's life was community...his community in the Hood River Valley, as well as the greater national newspaper community.
Don Hosford, a longtime friend, said this about Nafsinger, when he was honored in 2001 as a lifetime member of the Oregon Newspaper Publishers Association:
"Although Dick has been a leader in a large and geographically widespread newspaper organization, he has chosen to make Hood River his home," Hosford wrote. "He truly loves his community and cares about its people and its future."
Nafsinger was recognized numerous times for his civic activities enhancing the quality of life in the Hood River Valley, including founding the Hood River Improvement Company and spearheading the hospital foundation's fundraising drive for a kidney dialysis center. He held leadership positions on the school board, hospital foundation and Rotary club, among others.
All the while, Nafsinger built a strong, viable business operation, considered an integral part of the community's economy.
"Dick was a master at publishing a community newspaper," said former Daily Sun News Publisher Tom Lanctot, now Eagle Newspapers' company president. "He knew instinctively the importance of establishing credibility and integrity in the news columns, the editorial page and in advertising. He kept those functions separate, always recognizing the editorial leadership responsibility of a newspaper."
Nafsinger moved to Hood River in 1962 at age 28, when he was hired as editor and publisher of the Hood River News, owned by Denny Smith. The News was one of the three original newspapers owned by Eagle Newspapers Inc. (Blue Mountain Eagle Inc. at that time).
Under Nafsinger's leadership the News grew from a hot-type operation, averaging 12 to 14 pages a week, to a twice-weekly averaging 50 pages per week with a full-service commercial printing plant.
He became a key participant in the company and a key player in its growth. In 1991 he stepped down as News publisher to devote full-time as president and chief operating officer of Eagle, a position he held from 1978 to 2001. He remained on the Eagle board until his death.
The latest of the many honors he was afforded was bestowed on him in 2010, when he was named the recipient of the James O. Amos Award, the National Newspaper Association's highest award for distinguished service and leadership to the community press and community at-large.