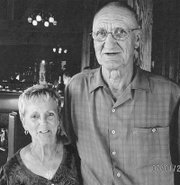 Having spent all of their married lives together in the Sunnyside area, Clarence and Maria Roosendaal recently marked their 50th wedding anniversary.
The couple was married on June 30, 1961 at the old Christian Reformed Church, which was located on Franklin Avenue in Sunnyside. The Roosendaal's have three children and five grandchildren.
Both Mr. and Mrs. Roosendaal are retired.
A special get-together with family was held at Cedars Restaurant to mark the golden anniversary.