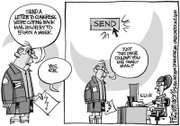 The U.S. Postal Service held a meeting last week to gain input from Valley residents concerning a cost-saving plan to move the mail processing center from Yakima to Pasco. A large turnout of 250 or so people let their voices be heard...NO!!! was the resounding answer to the proposal.
The vocal crowd cited several reasons why the mail processing center should remain in Yakima. Among the concerns was the potential loss of nearly 20 postal jobs in Yakima. Frustrated merchants and businessmen said they worry there will be delays in getting mail to and from customers. Others predicted that relocating the mail processing center might result in the mail arriving at the homes of Yakima Valley residents an hour or so later than they are accustomed to receiving it, and that next-day mail delivery will become a thing of the past in the Yakima Valley. Although it didn't come to the forefront at last week's meeting, there has also been some second-guessing that such a move from Yakima to Pasco might end up in the closing of the post offices in some of the tinier bergs...places like Harrah, Outlook, Bickleton, maybe even a community the size of Buena or Gleed or Parker.
It's clear there is lots of speculation on what might or might not happen if the mail processing center is relocated from Yakima to Pasco. What isn't clear are any solid answers.
It's ironic that in these times, with our national debt rapidly approaching $2 trillion, that there is such an outcry against a move by a federal agency to slash operating costs.
Yes, such a move will undoubtedly create some inconveniences. The costs to move mail, whether through the U.S. Postal Service or via private carrier, might rise a bit. But let's face it, the old postal system isn't a money-making operation. Basically it's subsidized by our tax dollars, and that means the costs of keeping the current mail system in place is just adding to the financial burden that all Americans are starting to realize they are going to have to shoulder.
What hasn't sunk in yet with most Americans is that for us, as a nation, to get out of debt is going to require making some sacrifices. If it means reshaping the way the U.S. government gets our mail to us, perhaps in a not so timely manner or having to drive a few extra miles to get a letter or bill mailed off, then so be it.
Before it's all said and done, if this country is again to prosper in the manner it has so become accustomed, many more sacrifices are going to have to be made. Get used to it.