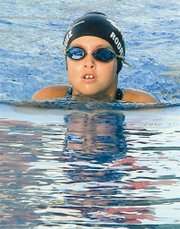 PROSSER - Traditionally, stealing a win from Prosser when the Piranhas are swimming in their home pool is a task that isn't easily accomplished. Last night, however, thanks to Sunnyside's female contingent, the Sharks made mincemeat of the Piranhas, 477-277.
Tuesday evening's overwhelming victory boosted the Sharks' league leading record to 10-1. Sunnyside closes out regular season action tonight (Wednesday) at home against Othello. The Sharks will then try to nail down top honors at this coming weekend's Mid-Valley Summer Swim League championship meet, being hosted by the Toppenish Tarpons.
In besting Prosser last night, Sunnyside's girls outscored their Piranha counterparts by a 321-78 margin.
Splashing the hardest for the Sunnyside girls were the sister tandem of Brittany and Marisa Broersma. The 16&U and 18&U swimmers notched victories in all five of the individual events in their respective age divisions.
Sunnyside, too, received an eye-catching performance from girls 12&U competitor Aydan Harrington. She pulled off wins in three of the five individual races in her age division.
It was Harrington, too, who gave the crowd the biggest thrill of the night, at least in terms of everyone holding their breaths in a photo finish to top all photo finishes ever. Competing in the 50-yard freestyle sprint, Harrington clipped Prosser's Becky Wildman by one, one-hundredth of a second for top honors.
Also posting a dominating performance Tuesday evening was girls 8&U competitor Reese Gray of Sunnyside. She swept aside all comers, winning all four of the events.
In the boys scoring last night, the host Piranhas came out on top, 199-156. Sunnyside had no answers for Prosser's Haden Hicks (8&U), Sam Kawakami (14&U) and William Burgett (16&U). Hicks, Kawakami and Burgett won all of the individual events in their respective age groupings.
Prosser also picked up four of the five wins at boys 12&U, with Levi Russell getting two of the victories and Scott Blakney and Edward Huffman notching one win apiece. Sunnyside's Adrian Heffron prevented the Piranhas from making it a clean sweep, though, by coming out on top in the 50-yard freestyle.
The one area the Sharks did dominate in the boys events was at 10&U. In that age division, Parker Van de Graaf was the leader, scoring victories in the 50-yard butterfly and freestyle, and in the 100-yard individual medley. Sunnyside teammates Johnny Heffron and Clay Schilperoort picked up the two other 10&U wins, at breaststroke and backstroke, respectively.
200-YARD MEDLEY RELAY
Girls 10&U
1st-Sunnyside (K. Bunch, J. Frank, A. Maldonado, A. Partch) 2:48.95
Boys 10&U
1st-Sunnyside (C. Schilperoort, J. Heffron, P. Van de Graaf, I. Gonzalez) 3:11.75
Girls 12&U
1st-Sunnyside (H. Perez, E. Banks, A. Harrington, E. Maldonado) 2:37.41
Boys 12&U
1st-Prosser (S. Blakney, E. Huffman, L. Russell, L. Moritzky) 2:35.01
Girls 14&U
1st-Sunnyside (L. Schilperoort, K. Hazzard, P. Sample, K. Bestebreur) 2:21.84
Boys 14&U
1st-Sunnyside (C. Martin, T. Frank, A. Perez, N. Scheenstra) 2:16.84
Girls 18&U
1st-Sunnyside) B. Broersma, M. Broersma, A. Newhouse, M. Marquez) 2:08.83
25-YARD BUTTERFLY
Girls 8&U
1st-Reese Gray (S) 23.09, 2nd-Rikki Scott (P) 28.55, 3rd-Arianna Sanchez (S) 29.15, 4th-Grace Bryan (P) 30.06
Boys 8&U
1st-Haden Hicks (P) 22.52, 2nd-Logan Rodriguez (S) 28.08, 3rd-Myles Newhouse (S) 30.84, 4th-Easton Wright (P) 41.19
50-YARD BUTTERFLY
Girls 10&U
1st-Ashlee Maldonado (S) 36.82, 2nd-Jessica Scheenstra (S) 42.09, 3rd-Gentri Gray (S) 42.84, 4th-Kaylyn Sanders (P) 44.07
Boys 10&U
1st-Parker Van de Graaf (S) 44.63, 2nd-Johnny Mullen (P) 44.78, 3rd-Coleman Wright (P) 51.81, 4th-Johnny Heffron (S) 55.70
Girls 12&U
1st-Aydan Harrington (S) 34.48, 2nd-Emily Banks (S) 37.77, 3rd-Emilee Maldonado (S) 37.89, 4th-Hunter Perez (S) 38.34
Boys 12&U
1st-Scott Blakney (P) 37.10, 2nd-Levi Russell (P) 41.24, 3rd-Adrian Heffron (S) 41.25, 4th-Skylar Gray (S) 41.35
Girls 14&U
1st-Jaiden Hamilton (P) 32.10, 2nd-Katelyn Banks (S) 32.56, 3rd-Payton Sample (S) 32.75, 4th-Lindsay Schilperoort (S) 34.63
Boys 14&U
1st-Sam Kawakami (P) 28.69, 2nd-Alex Perez (S) 30.73, 3rd-Bryan Smith (P) 37.05, 4th-Trajen Frank (S) 37.21
Girls 16&U
1st-Brittany Broersma (S) 30.03, 2nd-Tara Van Corbach (S) 33.70, 3rd-Kassidy Burnett (P) 34.17, 4th-Alexandra Newhouse (S) 34.82
Boys 16&U
1st-William Burgett (P) 27.14, 2nd-giovanni Rodriguez (S) 29.96, 3rd-Austin Dennis (P) 35.26, 4th-Drew Scheenstra (S) 39.23
Girls 18&U
1st-Marisa Broersma (S) 29.27, 2nd-Emily Hutchins (S) 42.57
Boys 18&U
1st-Nathan Gonzalez (S) 36.64
25-YARD BREASTSTROKE
Girls 8&U
1st-Reese Gray (S) 27.77, 2nd-Arianna Sanchez (S) 30.46, 3rd-Aline Anderson (S) 31.16, 4th-Grace Bryan (P) 32.31
Boys 8&U
1st-Haden Hicks (P) 26.96, 2nd-Joseph Channel (P) 28.98, 3rd-Logan Rodriguez (S) 34.74, 4th-Myles Newhouse (S) 41.12
50-YARD BREASTSTROKE
Girls 10&U
1st-Janessa Frank (S) 46.64, 2nd-Ashlee Maldonado (S) 47.07, 3rd-Gentri Gray (S) 47.81, 4th-Bailey Hazzard (S) 49.47
Boys 10&U
1st-Johnny Heffron (S) 45.88, 2nd-Coleman Wright (P) 50.69, 3rd-Parker Van de Graaf (S) 50.77, 4th-Clay Camp (P) 55.78
Girls 12&U
1st-Jessica Linde (S) 38.47, 2nd-Aydan Harrington (S) 41.03, 3rd-Shayanne Hicks (P) 41.24, 4th-Becky Wildman (P) 41.58
Boys 12&U
1st-Edward Huffman (P) 43.55, 2nd-Luke Moritzky (P) 43.88, 3rd-Skylar Gray (S) 49.49, 4th-Carlo Rodriguez (S) 52.45
Girls 14&U
1st-Katelyn Banks (S) 40.06, 2nd-Payton Sample (S) 40.38, 3rd-Kalie Bestebreur (S) 41.09, 4th-Kaylee Perkins (P) 41.44
Boys 14&U
1st-Sam Kawakami (P) 33.73, 2nd-Alex Perez (S) 35.06, 3rd-Trajen Frank (S) 39.10, 4th-Bryan Smith (P) 44.66
Girls 16&U
1st-Brittany Broersma (S) 35.67, 2nd-Tara Van Corbach (S) 39.98, 3rd-Alexandra Newhouse (S) 40.52, 4th-Madi Marquez (S) 43.72
Boys 16&U
1st-William Burgett (P) 31.85, 2nd-Giovanni rodriguez (S) 34.03, 3rd-Austin Dennis (P) 42.09
Girls 18&U
1st-Marisa Broersma (S) 33.63, 2nd-Emily Hutchins (S) 47.34, 3rd-Kendra Hollmeyer (S) 56.29
Boys 18&U
1st-William Lane (P) 32.37
25-YARD BACKSTROKE
Girls 8&U
1st-Reese Gray (S) 24.80, 2nd-Rikki Scott (P) 26.87, 3rd-Grace Bryan (P) 27.37, 4th-Shannon Whiting (P) 28.01
Boys 8&U
1st-Haden Hicks (P) 22.35, 2nd-Logan Rodriguez (S) 26.96, 3rd-Noah Blout (P) 30.72, 4th-Joseph Channel (P) 34.42
50-YARD BACKSTROKE
Girls 10&U
1st-Ashle Maldonado (S) 44.58, 2nd-Jessica Scheenstra (S) 46.09, 3rd-Janessa Frank (S) 46.18, 4th-Kylah Bunch (S) 46.88
Boys 10&U
1st-Clay Schilperoort (S) 48.90, 2nd-Parker Van de Graaf (S) 50.44, 3rd-Coleman Wright (P) 52.63, 4th-Ian Moreno (P) 56.18
Girls 12&U
1st-Aydan Harrington (S) 36.87, 2nd-Emily Banks (S) 42.03, 3rd-Hunter Perez (S) 44.18, 4th-Jenna Brown (P) 46.56
Boys 12&U
1st-Levi Russell (P) 38.64, 2nd-Adrian Heffron (S) 42.83, 3rd-Skylar Gray (S) 43.20, 4th-Scott Blakney (P) 43.70
Girls 14&U
1st-Lindsay Schilperoort (S) 33.61, 2nd-Kalie Bestebreur (S) 37.62, 3rd-Payton Sample (S) 37.72, 4th-Jaiden Hamilton (P) 38.45
Boys 14&U
1st-Sam Kawakami (P) 34.36, 2nd-Christopher Martin (S) 35.08, 3rd-Alex Perez (S) 35.45, 4th-Nate Scheenstra (S) 41.26
Girls 16&U
1st-Brittany Broersma (S) 33.70, 2nd-Kassidy Burnett (P) 36.98, 3rd-Alexandra Newhouse (S) 39.09, 4th-Madi Marquez (S) 39.54
Boys 16&U
1st-William Burgett (P) 31.40, 2nd-Giovanni Rodriguez (S) 37.09, 3rd-Drew Scheenstra (S) 42.44
Girls 18&U
1st-Marisa Broersma (S) 32.46, 2nd-Emily Hutchins (S) 43.47, 3rd-Kendra Hollmeyer (S) 49.41
25-YARD FREESTYLE
Girls 8&U
1st-Reese Gray (S) 19.85, 2nd-Rikki Scott (P) 21.10, 3rd-Arianna Sanchez (S) 22.83, 4th-Shannon Whiting (P) 25.34
Boys 8&U
1st-Haden Hicks (P) 18.00, 2nd-Joseph Channel (P) 21.63, 3rd-Logan Rodriguez (S) 23.98, 4th-Myles Newhouse (S) 25.72
50-YARD FREESTYLE
Girls 10&U
1st-Kaylyn Sanders (P) 33.58, 2nd-Ashlee Maldonado (S) 33.90, 3rd-Janessa Frank (S) 37.75, 4th-Gentri Gray (S) 39.40
Boys 10&U
1st-Parker Van de Graaf (S) 39.92, 2nd-Clay Schilperoort (S) 40.50, 3rd-Coleman Wright (P) 41.24, 4th-Johnny Mullen (P) 42.41
Girls 12&U
1st-Aydan Harrington (S) 31.93, 2nd-ecky Wildman (P) 31.94, 3rd-Emily Banks (S) 33.67, 4th-Shayanne Hicks (P) 34.09
Boys 12&U
1st-Adrian Heffron (S) 29.85, 2nd-Levi Russell (P) 32.59, 3rd-Scott Blakney (P) 33.57, 4th-Edward Huffman (P) 33.65
Girls 14&U
1st-Payton Sample (S) 29.37, 2nd-Jaiden Hamilton (P) 29.76, 3rd-Katelyn Banks (S) 31.82, 4th-Kalie Bestebreur (S) 31.84
Boys 14&U
1st-Sam Kawakami (P) 26.55, 2nd-Alex Perez (S) 27.87, 3rd-Christopher Martin (S) 29.04, 4th-Nate Scheenstra (S) 31.18
Girls 16&U
1st-Brittany Broersma (S) 27.65, 2nd-Kassidy Burnett (P) 30.89, 3rd-Madi Marquez (S) 31.81, 4th-Alexandra Newhouse (S) 31.84
Boys 16&U
1st-William Burgett (P) 25.08, 2nd-Giovanni Rodriguez (S) 26.59, 3rd-Chase Baker (P) 28.11, 4th-Austin Dennis (P) 30.16
Girls 18&U
1st-Marisa Broersma (S) 26.81, 2nd-Kendra Hollmeyer (S) 34.53, 3rd-Emily Hutchins (S) 34.75
Boys 18&U
1st-William Lane (P) 26.78, 2nd-Nathan Gonzalez (S) 29.14
200-YARD FREESTYLE RELAY
Girls 10&U
1st-Sunnyside (K. Bunch, J. Frank, A. Maldonado, A. Partch) 2:33.00
Boys 10&U
1st-Sunnyside (C. Schilperoort, J. Heffron, I. Gonzalez, P. Van de Graaf) 2:53.83
Girls 12&U
1st-Sunnyside (E. Banks, E. Maldonado, H. Perez, A. Harrington) 2:17.93
Boys 12&U
1st-Prosser (S. Blakney, L. Russell, L. Moritzky, E. Huffman) 2:25.99
Boys 14&U
1st-Sunnyside (M. Marquez, T. Frank, N. Scheenstra, A. Perez) 2:05.86
Girls 18&U
1st-Sunnyside (M. Broersma, B. Broersma, M. Marquez, K. Gonzalez) 1:58.96
100-YARD INDIVIDUAL MEDLEY
Girls 10&U
1st-Kaylyn Sanders (P) 1:41.99, 2nd-Chloe Messmore (S) 1:50.74, 3rd-Brielle Newhouse (S) 1:54.61, 4th-Macy Clough (S) 1:56.93
Boys 10&U
1st-Parker Van de Graaf (S) 1:42.56, 2nd-Coleman Wright (P) 1:43.39, 3rd-Clay Schilperoort (S) 1:50.37, 4th-Johnny Mullen (P) 1:52.58
200-YARD INDIVIDUAL MEDLEY
Girls 12&U
1st-Emily Banks (S) 3:07.07, 2nd-Becky Wildman (P) 3:21.23, 3rd-Leah Blakney (P) 3:23.46, 4th-Hunter Perez (S) 3:30.41
Boys 12&U
1st-Levi Russell (P) 3:04.28, 2nd-Scott Blakney (P) 3:22.84, 3rd-Andrew Diddens (S) 4:07.75, 4th-Luke Moritzky (P) 4:42.70
Girls 14&U
1st-Jaiden Hamilton (P) 3:05.11, 2nd-Summer Hazzard (S) 3:08.06, 3rd-Courtnie Cunningham (S) 3:12.77, 4th-Ashley Davis (S) 3:13.07
Boys 14&U
1st-Sam Kawakami (P) 2:38.75, 2nd-Bryan Smith (P) 3:10.77, 3rd-Mathew Marquez (S) 3:25.07, 4th-Trajen Frank (S) 3:25.14
Girls 16&U
1st-Brittany Broersma (S) 2:34.74, 2nd-Kassidy Burnett (P) 3:01.92, 3rd-Alexandra Newhouse (S) 3:02.13, 4th-Charley Beth Rollinger (S) 3:18.68
Boys 16&U
1st-William Burgett (P) 2:22.61
Girls 18&U
1st-Marisa Broersma (S) 2:30.03