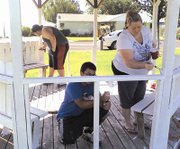 Concerned about the decayed look of the gazebo at Upland Park, Kari Zapata decided to ask the city of Sunnyside if it could do something.
When told city crews were too busy to deal with the gazebo, Zapata and her family offered to paint the gazebo and the city provided paint for the project.
Yesterday, Wednesday, Zapata, her sons Anthony and Jay, as well as neighbor Andrew Phillis applied a coat of white primer. They plan to eventually add a light tan coat of paint, also provided by the city.
Zapata, the chair for Sunnyside's Parks and Recreation Commission, said her family uses Upland Park and felt the gazebo could be brightened to make it more inviting for the public.
It's not her first time advocating for the gazebo, as earlier this year she alerted the city of Sunnyside to the fact several boards were missing from the open-air structure.
The city replaced those boards and this week Zapata and family are applying the finishing touches with primer and paint.