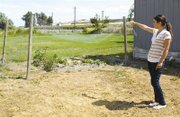 OUTLOOK - It's bad enough that her family had a laptop computer, jewelry, a TV and game console stolen during a burglary last week.
What's really irking Cheyanne Pacheco these days is that the theft happened in broad daylight and no one reported it to the Sheriff's office.
Her complaint stems from the fact that she and husband Juan live with I-82 at the back of their property, Gap Road at the front and Dekker Road on one side.
In fact, the burglars parked their vehicle on Dekker and had to carry their loot across a half-acre of open land, a fence and a ditch. Pacheco even pointed out skid marks where the thieves made their getaway in a hurry.
All of that was within plain view of Dekker Road, a busy venue that leads up to the transfer station, not to mention nearby I-82 and Gap Road.
"I'm upset they invaded our space and took our stuff," Pacheco said, noting the bandits even made off with money in her son's piggy bank. "But that's stuff, it can be replaced."
She added, "What bothers me is someone must have seen what was happening and didn't say anything."
Pacheco said the burglary happened sometime between 1 and 2 p.m. last Thursday. She left to buy groceries and returned to find her home ransacked.
The lack of eyewitnesses willing to come forward, combined with the hour or so Pacheco says it took deputies to respond to her call, means it will be difficult to track down the bad guys.
There is hope that deputies might be able to track the burglars via the PS3 game console they stole, which can track location.
About her only other hope is that someone will step forward to share what they saw.
Pacheco's making that appeal not just for her family, but for all crime victims in the Lower Valley.
"People see things happen but no one wants to say anything," she says. "I wish people would get more involved, they can give the police anonymous tips."