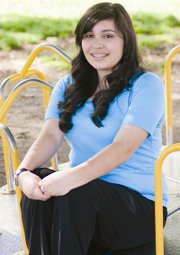 Abigail Ramos says she is like many girls who once dreamed of being a princess.
"The image of a princess was someone who is beautiful," she said.
Ramos said she has since realized princesses aren't perfect like she once believed, but they can be people who provide positive examples and serve others.
She is vying for the Miss Sunnyside crown so she can exemplify that image.
"I want to be someone the community can be proud of," said Ramos.
She said she will be a role model for youngsters, if she is selected to serve the community as Miss Sunnyside.
"I feel it is something I want to do...I want to set a good example for others and it would make me feel good to make a difference in the lives of others," said Ramos.
Because the role of teens like her can greatly impact the lives of youngsters in the community, she wants to work with Sunnyside's Promise.
Ramos wants to develop a program that empowers youth through music, art, writing, dance and theater.
She said the arts are an avenue for teaching others how to express themselves in a positive way.
"I have attended a camp called Power of Hope for the past two years," Ramos said, explaining her experiences at camp had nothing to do with religious faith, but faith in one's self.
"A person can learn to feel safe, develop a sense of self and feel empowered to be true to themselves through the arts," she said.
Ramos said the goal of developing the program is to help youngsters view their world differently, appreciating the unique capabilities and personalities of others.
"I think it is difficult for youth because there are so many avenues for them to remain anonymous, never sharing their true passions and personalities with others," she said.
"They often feel they must hide their gifts and abilities," Ramos continued.
She is the only child of Jesus Ramos and Maria Rocio Ramos, who she said have provided her love and support throughout her life.
"I want others to feel they have someone supporting them," said Ramos.
For the Miss Sunnyside Pageant she plans to perform a monologue about a pop star auditioning for American Idol.
"The pop star mistakenly believes she has a great voice," said Ramos.
She said the monologue is humorous and she wants to make those attending the pageant laugh.
Ramos will for the performance use skills she has developed as a member of the Sunnyside High School drama program.
"I'm not an athlete whatsoever," she laughed, stating she believes she shines through dramatic performances.
Ramos is also a skilled writer, who has written several columns for the Yakima Herald-Republic's "Unleashed."
"Amazingly, I keep pretty busy between drama, writing and school," she said, adding she also works for her father's business.
After high school Ramos wants to pursue either a career in journalism or psychology, but journalism is her first choice.
She plans to attend Western Washington University and study in England with hopes of eventually working for a large publication like the New York Times.
Her sponsors for the Miss Sunnyside Pageant are Paleteria La Nortena, Mendoza Auto Parts and Valley Pipe.