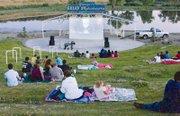 GRANGER - With grant funds in hand, the city of Granger is continuing its summer-long movie night program next month.
Mayor Ramona Fonseca said the city received a $6,000 grant from a Yakima County program that focuses on activities for youth. The idea is to steer youths away from gang-like activities.
Besides the movie nights, Fonseca says her town is using the money to provide activities with Round 3 Boxing events.
She says the public has responded well to the movie nights, which are shown on the big screen at Hisey Park every other Friday at dusk.
"We're having great turnouts, about 300 people," Fonseca said of attendance at the open-air movies.
She said those attending the movies will sometimes bring picnic dinners and have play times prior to show time.
In addition, the city opens its Dino Store for each movie night, offering snacks that include nachos, popcorn and hot dogs.
Fonseca said the city by contract cannot publicize the names of its last two summer movies coming up on Aug. 12 and Aug. 26.
She did say past films shown this summer at Hisey Park have included Despicable Me and Megamind.