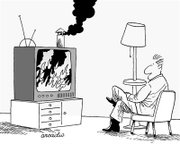 I am not sure when it began, but have you noticed more celebrities are expanding their horizons, starring in television programs rather than movies, learning to dance on programs like Dancing with the Stars, guest-judging talent shows and tracing their heritage on Who Do You Think You Are?
Now, famous people will be switching lives (temporarily) on television's newest reality show "Same Name."
The premise of the new television show is kind of fascinating, but I don't know if I will watch it. I am not wrapped up in the lives of celebrities as much as those who enjoy reading the tabloids.
But I admit, there may come a time or two when I will tune in if I find nothing else on television suits my interests.
I find the premise fascinating only because I wonder what it is like for the average citizen who happens to share the name of a celebrity. I think it would be interesting to see how those citizens adapt to the lifestyle of a celebrity.
A small part of me also thinks it would be fun to see how a celebrity adapts to living a "normal" lifestyle, living within the confines of the daily life of the average citizen. Some may do well, others may "suffer" because they are used to being pampered.
Just saying...
Others may tune in because they are like me, more curious about the "average Joe" getting to experience the lifestyle of the rich and famous version of himself or herself.
I don't know what will come of this new television show. It is entertainment for those who enjoy keeping tabs on celebrities. Dancing with the Stars is a big hit, so there's no reason this newest venture involving celebrities can't be either.
We do, after all, seem to be a society fixated on voyeurism.