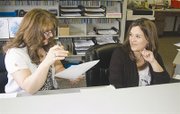 When a person leaves a job they usually don't have a lot of good things to say about their employer. That's not the case for Amy Castro, a receptionist at Sunnyside Physical & Sports Therapy.
Before starting work there four years ago she worked at Lower Valley Credit Union in Sunnyside.
"I loved it there," she said. "They are great people to work with."
Castro and her husband decided to start a family and the hours were too much for Castro to be able to spend quality time with her children. That's when she moved to Sunnyside Physical & Sports Therapy.
"This place offered better hours for us," Castro said.
Castro gets Fridays off at Sunnyside Physical & Sports Therapy. She also works four 10-hour days, which she says makes it more convenient for daycare.
"I love working here," Castro said of her current employment. "It's a lot like the credit union, the staff here is awesome."
Her duties are important at the office. She greets all customers that come into Sunnyside Physical & Sports Therapy. She also puts together all the patients' paperwork.
"We're the first people customers see when they come into the office," Castro said. "It's important we give them a good impression."
There are plenty of things she likes working at her office. She loves her co-workers and the hours are great. Castro just gave birth to her third child. After spending two months on maternity leave, she is easing herself back into the swing of things by working part-time. Among her other duties are answering phones and preparing billing statements.
The office switched to a new computer system while Castro was on maternity leave so she's been busy learning the new system.
"It's been a work in progress, but the new system will eventually make things easier," she said.
But one of the best things about working at Sunnyside Physical & Sports Therapy is the progress she sees clients make. She sees how much work they put in to get better.
"How much work they put in is how much they are getting back from it," she said.
The job provides a lot of satisfaction for her, she said. Besides that, the relationship she has with the staff and the patients makes her job all the more worthwhile.