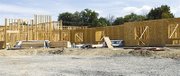 Lower Valley residents recovering from surgeries, strokes, fractures, knee and hip replacements will next year have a state-of-the-art facility for after-care treatment.
Sunnyside's Hillcrest Manor and Rehabilitation Center, owned by Eagle Healthcare, is expanding and the $3.5 million therapy pavilion construction project is on schedule.
The project encompasses a new chapel, family areas, new nursing stations, 24 private rooms for therapy patients, as well as three therapy rooms to accommodate patients and their various needs, according to Administrator Mary Arthur.
Her excitement beamed from her face as she explained the additions to the center.
"The wing will have its own entry and reception area...there will be a lobby and new dining room for patients in the wing," said Arthur.
Construction on the therapy pavilion began this past March and Arthur said the wing is expected to open January 2012.
"We will be adding professional staff to accommodate the patients...physicians and orthopedic consultants," said Arthur.
She said state-of-the-art equipment will be available to help patients re-learn skills lost as a result of their condition. Those skills include mobility via the use of a Moveo and other equipment that will be in the therapy rooms. The Moveo, said Arthur, is a tilting exercise table that increases the ability to stand through progressive movement. It decreases the risk of further injury.
When the construction of the new wing is complete, Arthur said, the current facility will undergo a makeover of its own.
She said the remodel of the current facility is expected to be complete by April 2012.
The architect for the entire project is WAI Continuum of St. Paul, Minn. The contractor is Exxel Pacific Contractors.
Casey Dixon, who has Sunnyside ties, is the supervisor for the project.
He said the construction of the new wing is the first phase of the project. The west wing will be renovated in the second phase and Hillcrest's east wing will be remodeled in the final phase of the project.
Much of the framing for the addition is already up and Dixon said he expects electricians and plumbers to soon be on site. Framing for the roofs will also begin in the next couple of weeks.
"The speed of everything depends on the support (of personnel)," said Dixon, who said he feels blessed to work on the project in the town where several of his family members live.
Arthur said each step of the process is closely examined for quality assurance. While the walls go up, she works with Eagle Healthcare Vice President Paul Rasmussen on the details of selecting equipment and furniture.
"If two equally constructed chairs are available, but one is $300 more than the other, which do you think we are going to purchase?" said Arthur, stating every cost-saving measure assures money remains for the final phase of the project.
"This is really an exciting project for the community and the patients," said Arthur.
More like this story