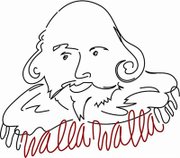 WALLA WALLA - Residents of eastern Washington no longer have to travel to Ashland, Ore. to satisfy their appetite for Shakespearen theater.
That's because for the fourth year in a row Shakespeare Walla Walla will feature summer productions of the Bard's work.
This year's Walla Walla Shakespearian production, in cooperation with the Seattle Shakespeare Company, will be bigger with three different plays on two stages.
It all begins with Macbeth Aug. 3-7 under the stars at the Fort Walla Walla Amphitheatre. Performances are at 8 p.m. each day, with tickets costing $15 for adults and $12 for seniors over 65 and for children under 12.
Next up for Shakespeare fans will be The Comedy of Errors, running Aug. 10-14 with performances at 8 p.m. also in the Fort Walla Walla Amphitheatre.
Two new features this year will include a play not by Shakespeare and a new theatrical venue.
The play is Swansong by Patrick Page, depicted as a heartwarming story about Shakespeare's friendship/rivalry with playwright Ben Jonson.
Page, a Whitman University graduate, is currently playing the Green Goblin in the Broadway production of Spiderman.
Adding to the excitement of a new play is the fact Swansong will be performed in the Power House Theatre, a former gas plant in Walla Walla that has been transformed into an indoor Shakespearian theater.
Denise Slattery is the marketing director for the Power House Theatre and she says it is one of just two in the country with a stage that is an exact replica of Shakespeare's 17th century Black Friars Theatre.
Slattery said the Power House and a theater in Virginia are the only ones with stages that have the exact dimension and footprint of the Black Friars' original stage.
She said Shakespeare designed the original as a way to have indoor theatrical productions. Among its features is seating around three sides of the stage and with seating even on the stage itself.
Walla Walla's stage is unique because it has been constructed in a recently remodeled 127-year-old building.
Swansong will be performed at the Power House Theatre, 111 N. Sixth Ave., Aug. 3-7 and Aug. 10-14 at 8 p.m. Tickets range from $25 to $10 for adults and $21.25 to $8.50 for seniors over 65 and children under 12.
It's all a far cry from the one-play, one-week performance that started Walla Walla Shakespeare just four years ago.
"People are passionate about Shakespeare, the stories are timeless," said Slattery. "This is an opportunity for people in our region to see professional theater."
Slattery noted the Power House will also be a venue for other activities, such as theater classes for children. This December a Christmas-season play is also scheduled for the Power House.
Eventually, she hopes to see Shakespeare Walla Walla be able to put on productions of all kinds up to six or seven months a year.
Last year's production attracted almost 3,000 people. That's a far cry from the 400,000 or so that turn out for Shakespearian productions in Ashland.
As a result, Slattery says Walla Walla's goal isn't to supplant Ashland, but to treat eastern areas of the Northwest to first-class productions in a one-of-a-kind venue.
"For this part of the state this theater is very exceptional, there's no other theater of this design built inside a 127-year-old building," she said.
For more information visit shakespearewallawalla.org.