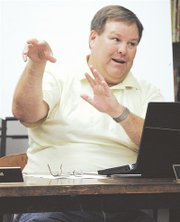 GRANDVIEW - Closed campus for Grandview High School freshmen is becoming a reality, said Grandview High School Assistant Principal John Jennings.
Jennings and High School Principal Mike Closner briefed the Grandview School Board last night on their plan and purpose behind the campus closing.
Closing campus, Jennings said, will allow for a smoother transition from middle to high school for the ninth graders. It should increase attendance and decrease tardies.
"This is the next logical step to reducing absenteeism and tardy situations," Closner added.
Jennings emphasized that the incoming ninth graders will not have anything taken away from them as they have never had open campus before.
Board Director Tim Grow asked the administrators to consider expanding the closed campus policy to all the grades and Jennings replied that they can look at that in the future. For now, taking the first step with ninth graders is a chance to explore the effectiveness of closed campus.
Currently, the school has the capacity to serve all incoming freshmen lunch on campus, Jennings said.
"It would take more thinking and more planning to serve all four grades," he added.
Jennings went on say that this is an opportunity to not only improve attendance, but academics and citizenship as well. He explained to the school board that Sunnyside High School currently uses open campus as an incentive.
"If one junior gets into a fight, it can keep all juniors from going off campus," he said.
Jennings and Closner acknowledged there might be some resistance to closing campus, but they are confident it is the right choice for their students.
Closner revealed that a group of at-risk juniors discussed the topic of closed campus and they said they support the idea.
He said they told him if the school had closed campus when they were freshmen they might not have gotten into trouble. He said they told him they would not have liked it, but would have been the best thing administrators could have done for them.