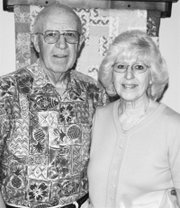 Grandview's Jeannie and Jim Grimes will celebrate 50 years of marriage June 11, 2011.
An open house for the couple is planned by their three children, Jeff (Rebecca) Grimes of Benton City, Janae (Fred) Lamb of Prosser and Julie (Bill) Michener of Grandview.
The event will be from 1 to 4 p.m. at the couple's home, located at 179501 W. Robertson Rd. in Grandview and anyone wishing to join the celebration is welcome to attend.
The Grimes were united in marriage June 11, 1961 at the Central Christian Church in Prosser.
The couple lived for a brief time in Prosser before relocating to their current Grandview home. They have lived there for 48 years.
Mrs. Grimes retired in 2001 after serving 41 years as a registered nurse. She worked for Sunnyside Community Hospital for 21 years.
Mr. Grimes is a retired iron worker. He worked for Neil F. Lampson in Kennewick for 22 years before retiring in 2002.
The couple attends Sunnyside Grace Brethren Church and enjoys time with their children and 14 grandchildren. The Grimes also enjoy square dancing with the Lower Valley Square Dance Club, traveling in their RV and gardening.
Mrs. Grimes also enjoys quilting, while Mr. Grimes' hobby is woodworking.