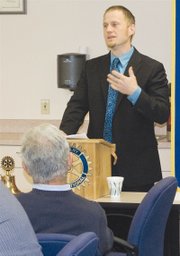 More than 80 percent of Americans favor marijuana for medicinal uses and nearly 50 percent favor its legalization for general uses.
That's according to Sunnyside native Alex Newhouse, who this morning, Wednesday, spoke to the Sunnyside Daybreak Rotary Club.
Now an attorney practicing in Yakima, Newhouse is pursuing the legalization of marijuana in Washington state by drumming up support for Initiative 1149.
Newhouse said at one time in his life he was opposed to legalizing marijuana, but started researching the subject and came to the conclusion it should be lawful.
He says special interest groups in the 1930s pushed for a ban on marijuana and hemp, and special interests have continued to keep them illegal.
Over the last 30 years, Newhouse claims the U.S. government has been practicing what he calls a "smear campaign" against marijuana that is "based on misinformation and bias."
Newhouse also attempted to refute what he calls "myths" reported by federal agencies, such as the U.S. Department of Health and Human Services, about how marijuana is a gateway drug to harder drugs or that users can get addicted to it.
"No one ever overdosed on marijuana," he contended.
There would also be positive impacts to the U.S. economy if marijuana was legalized, claims Newhouse.
He claimed there would be a costs savings in law enforcement because currently "half of the drug arrests in the U.S. are from marijuana."
Farmers, Newhouse contended, would benefit from growing hemp because it reportedly is easy to grow and can be used for purposes ranging from construction to food.
He admitted marijuana use does alter a user's sensibility and can make them "high."
Newhouse added that he has represented several clients who have been stopped for driving under the influence because of marijuana use.
Even so, he intends to press the legalization issue until it becomes reality.
"I'm committed to fight this fight until it's done," Newhouse said.