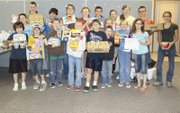 Members of the Green Valley 4-H Club spent the last month collecting various goods for American soldiers.
The students, who range in age from third graders to high school seniors, collected drink mixes, snacks, batteries, playing cards and gum for an Iowa National Guard troop stationed in Afghanistan.
The 4-H club conducts numerous service projects throughout the year, including supporting families in need during the Christmas holiday and organizing food drives in November. This is the first time they have collected goods for U.S. troops.
The club members voted on the project and collected the items in a month. All together, they shipped out seven boxes for the troops.
The National Guard troop has been stationed in Afghanistan since last November.