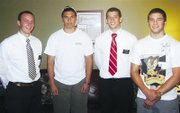 When it came to serving as a missionary for The Church of Jesus Christ of Latter-day Saints through a two-year mission, Jonas Linde expected to be sent to another country. After all, all his other family members went to another country.
So when Linde's mission came through and he discovered he was going to be sent to North Carolina, he did feel an element of disappointment. He had expected an exotic country and new culture, and instead he got America.
But Linde quickly learned that he didn't need to leave the country to get his own unique and valuable experience. And he certainly didn't need to leave the country to help people.
Linde left in May 2009. He said it was a little hard to pack up and leave his life in Washington state behind, but his parents, LaDon and Sandra Linde of Sunnyside, were extremely supportive and a key part in keeping him focused and committed to his mission.
Linde was sent to the Raleigh mission and covered the area east of the city to the Atlantic coast.
The south definitely has a different culture, Linde said.
He explained that people interact differently there. They are very friendly and more willing to greet and talk with strangers than people are around here.
That openness gave Linde opportunity to share his faith, but even people who were not interested in hearing him share the gospel, they were still friendly and talked with him.
As part of his mission, Linde focused on community service. He said that missionary work is much more than just knocking on doors.
During his two years in North Carolina, Linde volunteered for Habitat for Humanity, where he worked alongside other faiths. He also volunteered his time at the local libraries and with various community projects.
One project was helping people assemble or update their resumes for free. This project came with no strings attached, he said. People could take advantage of the help and still refuse hearing about the gospel.
"We've got to be willing to serve people and do kind things for them," Linde said, "even if they don't want to hear your message."
Rejection was a little disappointing at first, Linde said. He explained it is probably something all missionaries experience.
"Eventually you start to appreciate that God gives everyone free will," he said.
He explained that he hoped everyone who did not want to hear the message he had was making the right decision for their lives at that time, but he did what he was sent there to do.
Linde says there was no single experience that really stands out to him, but the importance of his work was seen in gradual changes on the faces and in the behavior of the people he met.
"I think I've grown in my capacity to love people as they are," he said.
Linde returned to Sunnyside from North Carolina on May 21. He has big plans to return to college, but first he must decide between the University of Washington, Washington State University or Brigham Young University.
Wherever he goes, Linde plans to study English and hopes to either teach the subject or go on to law school.
Linde also hopes he'll be able to return to North Carolina. In fact, if he elects to attend law school, he plans to apply to the University of North Carolina or Duke University.
For now, Linde is just enjoying his return home. Besides his family, he says he really missed the mountains and the beauty of the Yakima Valley.