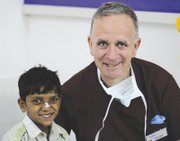 German philosopher and theologian Albert Schweitzer once said, "Wherever a man turns he can find someone who needs him."
Rotaplast International recently turned to India where they found plenty of people in need of their unique, but important service.
The primary purpose of Rotaplast International is to provide free surgery to correct clefts in the lip or palate. The 2011 trip to India was organized and hosted by central Washington and south central Alberta, Canada's Rotary International District 5060.
From the Yakima Valley, Sunnyside Rotarian Tom Lathen, Prosser's Jean Tolcacher and Yakima's Steve Altmayer, Jim Pinnell and Russ Mazzola went on the trip.
Cleft lips and palates are common birth defects, but if left untreated, they can cause speech and medical problems, along with rejection and teasing.
The team traveled to Udaipur, India, where in nine days they performed 61 surgeries, gave away approximately 125 quilts and more than 400 stuffed animals.
One of their patients was 18-year-old Kailash.
Kailash had polio and lost the use of his legs, so after surgery to repair his cleft lip, the team members pooled their money and bought the young man a three-wheeled, hand-propelled bicycle.
Another patient, 6-year-old Karma, did not have a cleft lip or palate. Instead, the young boy had been severely burned and never treated.
"Your first reaction to seeing him was to turn away," Lathen said. "It was tough to look at."
Lathen described Karma as having his chin melted into his chest. His right arm was also fused to his chest.
Two surgeons worked for five hours to detach his chin and arm. They also grafted skin from his chest to place on his neck and reconstructed his thumb.
Volunteers collected more donations and purchased the young boy's father a bike with a place for Karma to sit.
The impoverished people of India are in real need of basic medical care, Lathen said. Despite the fact that India has a fine medical care system, there are simply too many people to provide adequate care to them all, he says.
"The country is just overwhelmed with people," he said. "There are so many people the disparity between the wealthy and poor is greater."
With 1.2 billion people in the country, the very poorest are left behind because there are simply not enough doctors, Lathen explained.
Rotaplast International missions also address that issue. Along with providing free surgeries to children in need, they open the operation room doors to Indian medical students.
It is a learning experience for everyone involved.
"It's interesting," Lathen said, "but it's not a vacation. It's work and it really changes lives."
This is Lathen's fifth trip with Rotaplast International and his experiences continue to feed his desire to serve their mission, though he has already decided not to go on next year's trip to South America.
"I think every American should spend time outside of the United States," he said. "You'll have a greater appreciation for what we have here."
He continued, "We shouldn't feel ashamed for the life we have, but we do have an obligation to help those who don't have that kind of life."
Lathen also says that missions to countries like India depend on people who are willing to give, not only their time, but their money and other items, like quilts and stuffed animals.
Support from local residents makes trips like the one to India possible.
"The outpouring from Sunnyside and Grandview was so generous," Lathen said.
That support continues to grow. Lathen is currently working with KYVE, the local PBS station, on creating a program from the seven hours of video Lathen shot while in Udaipur. He believes the program will run sometime in July.
Donations to Rotaplast International can be made by writing to 400 North Pearl, Ellensburg, WA 98926.