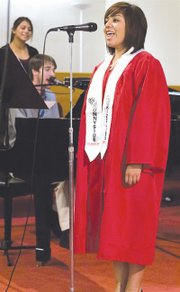 The night before most of the Lower Valley's high school seniors are set to graduate many of them gathered to sing, pray and listen to advice.
Baccalaureate services Thursday evening at Sunnyside's Presbyterian Church started with a call to worship from Sunnyside High School senior Ayla Schmick. This was followed by a welcome and invocation by the Rev. Katie Haney.
The sermon was given by Rev. Larry Mays.
"Congratulations to you graduates," Mays said. "I'm glad you're here. The purpose now is to send you off into life's next adventure with God's blessings."
He added that the graduates were placed on earth to glorify God.
He offered advice to the students from what he said was the wisest man who ever lived, King Solomon. The advice is simple...trust in the Lord with all your heart.
Mays also offered a story about a young man who left his home when he graduated with a lot of money from the family farm. He left to make his fortune, allowing sin to get in the way and ended up losing everything.
He came home with nothing, but that was May's point. Sometimes people makes mistakes and go over the Fool's Hill, but God will always leave the light on and lead the wayward one back home.
Sunnyside High School Principal Chuck Salina gave the charge to the class of 2011 and thanked them for allowing him to be there. He told them this is a new beginning for them and new adventures and many questions will be in their future.
"I believe that the most important questions in life to answer are what it is that gives my life purpose and meaning," he said. "And how do I act on this purpose?"
He asked them what they truly value and if their values are based on timeless principles grounded in the 10 commandments and the word of God.
"Are your values built on the worth and dignity of others and grounded in faith formation that leads toward to our Father in Heaven?" he asked. "Your values are your bedrock that allows you to ride out the toughest storms. Your values are your lighthouse that defines your true north. When you are clear on what you value you will also be clear in your purpose."
Salina left the graduates with four recommendations.
He advised them to take time to identify their values to help clarify their purpose. Commit to your values to develop personal power to help make the right choices in life, he said. Demonstrate behaviors grounded in your values to build trust with others, and when you make a mistake, ask for forgiveness, Salina added.
"The bottom line is that when people trust us they will allow us to help them and when we help others we add value to our life as we know, love and serve our lord."