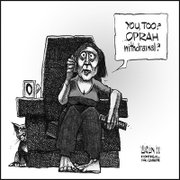 With Oprah Winfrey safely off the air, the women of America need to explain to me what their fascination with this egomaniac bore was in the first place. Despite being neither entertaining nor amusing, Oprah managed to become the biggest talk show host on the planet.
Women love Oprah and, as a man, I just don't see the appeal. I get that she's flawed and faces struggles that normal women face. She's overweight and a lot of ladies are also overweight, so there's a certain solidarity there. That said, Oprah, after years of dieting with a team of experts on staff, is still overweight.
Why would a normal woman who works all day, then has to take care of her kids relate to a billionaire with a private chef and personal trainer on call? Regular women gain weight because with everything they have to do, sometimes it's just easier to pick up a pizza instead of cooking healthy food. Kids, work and life can also make getting to the gym impossible.
Oprah does not face this struggle. If she wants kangaroo from that great place in Sydney for dinner, she simply has to tell someone in the morning. If she wants a gym and Richard Simmons acting as her trainer, she simply has to make a phone call.
Actually, she doesn't even have to make the call, she has people who do that for her. Given her advantages it's stunning that Oprah is fat and it speaks to the deep level of emotional disturbance she must be under no matter how self-actualized she tells us she is.
When you watch Oprah's show, the women in the audience hang on every word and scream with manic glee whenever she says anything mildly exciting. I understand the audience that got free cars freaking out. I don't understand why the audience that gets Oprah's favorite popcorn reacts the same way.
Watching Oprah actually makes me wince as her affected vocal patterns become grating very quickly. She lectures her audience as if her life offers some shining example and the people in the crowd - clearly the people in the nation - simply lap it up.
Of course, you have to salute Oprah for her book club because anyone who gets people reading deserves an amazing amount of credit. That said, can someone admit that Maya Angelou writes awful, unreadable poetry? I mean, pretty much all poetry is awful, but Angelou is the leader when it comes to stuff that isn't actually good that people like Oprah pretend is fabulous so they can seem like sensitive intellectuals.
Despite the year-long salute to herself, Oprah isn't actually leaving television, instead she's heading to her own network, the not-so-cleverly named Oprah Winfrey Network. Currently OWN - filled with shows from people in the Oprah universe - actually does worse than the network it replaced, Discovery health (a network filled with shows about enormously fat people).
That will probably change once the lady herself enters the picture, but it's hard to understand why. I know the show is not for me, but if Oprah couldn't entertain me with her talk show - the thing she supposedly does best - I can't imagine watching her travel the world (which is the premise for her OWN show, a show being produced by a close friend of mine, so I hope I'm entirely wrong). Of course, if that fails, she can always put the couch back and invite Tom Cruise to come over.
- Daniel B. Kline's work appears
in more than 100 papers weekly. His new book, "Worst Ideas Ever," can be purchased at Worstideasever.com (dan@notasrep.com).