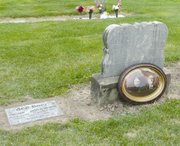 It was an unusual event that took place on Memorial Day this past Monday in the Sunnyside Cemetery (Lower Valley Memorial Gardens), when descendants of the Isaac den Boer family gathered to commemorate a long deceased uncle and aunt.
It was in March 1910 when Izak (Isaac) and Liedewy (Lydia) den Boer arrived on the Northern Pacific train in Mabton as immigrants from the Netherlands.
They had six children with them and were greeted by their four oldest children, who had arrived in 1908 and 1909.
These four were waiting on the far side of the Yakima River with wagons and surreys. They were waiting there because the bridge had broken up that past winter by floating chunks of ice. The winter had been severe enough for the river to freeze over. The new immigrants (there were about 15 others) had to walk across on strong planks.
Can you imagine the joyful reunion?
Just six months later, however, the joy was turned to sorrow when an epidemic of typhoid fever invaded the valley. The den Boer family suffered two deaths, son Cornelis died in October at the age of 21 and daughter Annetje died in December at the age of 14.
Because of a lack of funds, their graves were not marked with head stones. One hundred years later, the descendents decided this lack of recognition should be corrected.
It was arranged for a brother and sister statue to be engraved with their names and laid in place just in time for Memorial Day 2011.
About 40 descendents gathered in the old part of the cemetery facing Van Belle Road to learn a bit of the den Boer history.
Only two of the males in the gathering still carried the den Boer name. They are Larry den Boer of Sunnyside, who has two sons to also carry on the name, and Ronald den Boer of Vancouver.
Other den Boer descendants are connected with the families of Jacob Bos, David Bos, T.J. Schilperoort (all of Sunnyside), Martin Ord of Zillah and Victor Stover of Harrah.