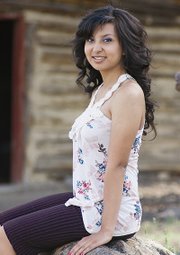 Sunnyside High School sophomore Kayla Amaro wants to give back to her community and views serving on the Miss Sunnyside court as a way in which she can do that.
Amaro's older sister Brittney served on the 2006-07 Miss Sunnyside court.
"Our entire family got involved," she said, stating her parents Seferino and Esmeralda supported their older daughter throughout her time on the court.
Amaro's other siblings, Sef Jr. and Emily, were also involved in helping the 2006-07 court at community events and when building the Sunnyside Community float that year.
"We also helped with the community service project," said the younger Amaro, who is the baby of the family.
She said she wants to help others and if selected to serve as 2011-12 Miss Sunnyside plans to work with Children's Village.
"I want to raise funds and work with Children's Village, helping children served by the organization," said Amaro.
The project was inspired by photographs of her older brother as an infant. She said he was born prematurely and knows there are children who suffer health issues because of a premature birth.
"They are so tiny," said Amaro, stating it is hard to imagine her older brother as such a small infant.
"He is so big and strong to me," she said.
Amaro said she is also seeking the Miss Sunnyside crown because she enjoys new challenges.
"I want to be involved in the community and challenge myself with new experiences," she said.
"I want to take advantage of every opportunity available to me," said Amaro.
At Sunnyside High School Amaro is intrigued by science and enjoys being a member of the dance team.
She has been on the dance team since she was a freshman and was a part of this year's team, which won the State title.
"It was exciting," Amaro said of the honor.
She also placed among the top seven in the drill down competition at the 3A State Dance and Drill Competition.
Amaro's interest in science also led her to participate in the Sunnyside science fair. Her project was focused on cosmetics.
She wishes to further explore her interest in science by attending college to become an optometrist.
"The anatomy of the eye is fascinating," said Amaro, stating she is also interested in the "gadgets and tools" used by optometrists.
Optometrists, she said, also help others...something she wants to focus on.
For her talent at the 2011-12 Miss Sunnyside Pageant Amaro plans to perform a jazz dance routine. She said jazz is a format of music that appeals to her because it fits her personality.
"I am typically shy to start off with and as I become more comfortable I am more outgoing," Amaro said, stating jazz can begin softly and build with character in the notes.
Her sponsors for the Miss Sunnyside program are Sid Ferris of Mid Valley Chrysler Dodge in Grandview and Get a Grip Boutique in Prosser.