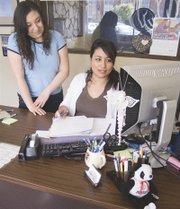 What started as a new opportunity 11 years ago has now turned into a lifetime job for Andrea Gonzalez, a licensed sales producer and office manager at Allstate Insurance Company in Sunnyside.
Gonzalez was born and raised in Grandview and works at an Allstate office in Sunnyside. Eleven years ago she was working at Dairy Queen when the owner, Joe Herber, came to work at Allstate in Sunnyside.
"He asked me to come and be his office manager and get my license to sell insurance," she said. "I had worked with Joe for many years and knew he was a good boss."
It took a couple of months to get her license, but she's been selling ever since.
She admits it took a while for her to break out of her shyness shell, but eventually she did it. There is a lot of tele-marketing calls when selling insurance, as well as cross selling multiple policies.
"It's exciting when you sell a policy," she said. "You get to explain the different coverage to the customer and explain exactly what they're buying."
Gonzalez offers vehicle insurance, home insurance and recreational insurance for boats, RVs or even jet skis. Commercial insurance for businesses is also offered.
A typical day for Gonzalez at the office is to open up for the day and then make sure all of the previous day's customer requests have been completed.
Is it easy? Yes and no.
Gonzalez said when a customer comes into the office it is much easier to get the policy written. When she is out trying to sell insurance, that's where things can be difficult. She makes a lot of calls.
But she likes what she does, enjoys it, as a matter of fact.
"I enjoy interacting with the customers," she said. "I've known some of them since they were kids and now I'm selling them insurance."
One thing she doesn't like, and this is understandable, is when she has to inform a customer their premiums will be going up. Let's say a customer gets into an accident or receives a speeding ticket. These types of incidents usually raise rates and it's Gonzalez's job to inform her customers.
"I can always explain the reason, but I don't like giving people bad news," she said.
She has no aspirations of owning her own agency one day, instead Gonzalez said she is happy being an office manager and selling insurance.
"I really do enjoy it," she said.