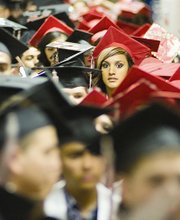 At 326 strong, they are Sunnyside High School's biggest graduating class. They set another school record with 80 percent passing all their classes.
This past Friday night, friends and family and Sunnyside School District staff overflowed Clem Senn Field to celebrate the class of 2011 and its achievements.
Though 2010-11 is literally a building year for Sunnyside High School with a multi-million dollar facelift, Friday night was all about celebrating another building program, instilling in SHS students a love of learning, of getting good grades and of completing their education.
Several praised the Class of 2011 for being the pace setters for continued improvement at SHS.
"Thank you class of 2011 for modeling the way for future classes," Principal Chuck Salina told the graduates. "You've worked hard and you deserve this recognition. You exceeded our expectations."
Salutatorian Blanca Mejia echoed the sentiment.
"It's an honor to be in the presence of great role models," she told her classmates.
Valedictorian Christine Kim expressed confidence that future classes will build on the class of 2011's momentum.
"We are the beginning of the change," she said. "But it's not the end."
A sign of that change was in the form of dollar signs, as graduates received a combined $2.5 million in scholarships and grants. In other awards announced Friday night, Maria Olivera and Andrew Daley were honored as the female and male athletes of the year for the class of 2011. The award was selected by the head coaches at SHS.
In a vote by their classmates, Ryan Rice and Blanca Mejia were honored as the senior boy and girl of the year.
The Class of 2011 also had a say in deciding the faculty speaker for Friday's commencement exercises. The students chose teacher John Hulick, whose humor filled the field with laughter. That included singing parodies of popular songs, such as converting a Lionel Ritchie classic into "you're once, twice, three times a Grizzly."
He also poked fun at students for their non-stop texting, opening his speech with a humorous pause, asking students to wait while he finished a make-believe "text."
Hulick then struck a serious tone, noting the depression-era sacrifices of the "greatest generation."
He said today the country is again in financial difficulties with a recession. The future of the U.S. economy may be uncertain, but Hulick expressed confidence in the SHS pace setters of 2011. He said they are the key to future success for this country.
"I'm not worried because I have faith in you," he told the graduates. "One day I hope my grandchildren will pick up a history book and read about the class of 2011...and read that you were our greatest generation."