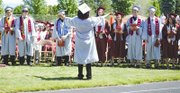 GRANDVIEW - On Saturday's warm, sunny morning, friends and family of Grandview High School's 129 smiling graduates filled the stands and spilled onto the field at Rich Leenhouts Stadium to celebrate the end of four long years of achievement.
To open the event, graduates entered two-by-two, sometimes three-by-three, posed for photos, smiled and waved at family and friends, and hugged as the Grandview High School banded played "Pomp and Circumstance."
Grandview High School coach and teacher Jeremy Scroggins was the faculty speaker. He told the students that they may feel that life is all about feeling good and looking good.
"It is really about being good and doing good," he told them.
Scroggins went on to say that they have much to offer the world - talent, creativity, freedom, ideas and opportunity - but that they need to "do what you've been wired to do."
Scroggins explained that he was wired to be a coach. It's what he does and he set out to do it the best he could.
Whatever the graduates set out to do, he said, Scroggins wanted them to do it well.
"I firmly believe that character counts," he added, saying that to do well in life they needed three pieces of advice.
The first is attitude, he said, adding that attitude is more than just being respectful, kind, courteous and humble.
"It is enthusiastically making whatever you're doing the most important thing in the world."
The second thing they needed to do was work, he said.
"Don't kid yourself," he said. "This won't be easy."
But with hard work and the right attitude, he said, they would reap the benefits.
Finally, Scroggins told the grads to judge themselves only against the man or woman they see in the mirror. The only person they have to live up to is themselves and they need to ask themselves at the end of the day, did they do the best they could.
"It's in your hands," he finished.
Grandview High School valedictorian Chelsie McNabb and salutatorian Daniel Licea delivered the same speech. McNabb gave the address in English and then Licea stepped forward to deliver it in Spanish.
The message they shared with the class was a challenge. They asked their fellow students to make their own path through life.
Making your path through life is difficult, they said, but it is also more rewarding.
"As I look at my classmates, I see friends I know can do anything," they said. "I challenge you, Class of 2011, to make your own paths in life and live the life you've always imagined."
Grandview High School Principal Mike Closner followed the student addresses with news of the class's remarkable achievements. He revealed that the senior class had earned nearly a half million dollars in scholarships - a GHS record.
Grandview School District Superintendent Kevin Chase also shared some words of wisdom with the graduates, saying, "All of you will be looking for the next mountain to climb."
Chase told them they now have the tools, the gear and the determination to climb any mountain they choose.
After the students received their diplomas, graduate Froylin Flores concluded the ceremony with a special tribute.
Ten years ago, Flores made a deal with his grandfather, Victor Flores. Victor told his grandson that if he grew out his hair and never cut it, on Flores' graduation day, he would give the young man his '63 Impala.
Since that day, Flores never cut his hair, though he admits that he was tempted often. As an athlete, he had to keep it braided and out of the way and it would get hot during football season.
But Flores made it and at the end of the graduation ceremony, amid cheers and laughter from his classmates and friends, Scroggins stepped forward and cut Flores' braid - the young man's final tribute to his class and his grandfather.
The hair, Victor revealed, will be donated to Locks for Love.