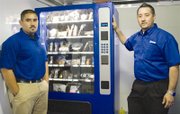 Do you want to reduce inventory costs for supplies at your business?
Sunnyside's Fastenal has a solution offered through its new innovative vending system, the Fast 5000.
Todd Cruz represents the local retailer, which supplies businesses with commonly used items like Loctite, duct tape, cleaning solutions, heavy-duty tools and even office supplies.
"This is an automated supply technology developed by Fastenal to help customers save money," said Cruz, pointing to the vending system.
The machines, he said, are an inventory management system to control and secure inventory.
Cruz said the machines provide ease of access to high-use products and consumption limits can be controlled by an employer through the system.
The machines are completely computerized and each employee is provided an identification number to access items distributed through the machines.
An employer can program the machines to distribute only items necessary for a specific employee's job responsibilities.
For instance, the employee cannot access welding gloves, if he or she is not a welder.
Items like ear plugs, safety goggles and gloves are products employers are continuously replenishing.
Cruz said many employers have a parts counter or inventory cage from which employees must obtain such supplies. Because the supplies are located in a specific area of a facility, the employee must leave their work station and traverse to the location of the supplies.
This, said Cruz, can reduce productivity.
The machines, he said, can be located at the point of use. A machine can be located in each department, distributing supplies specific to the department.
Because the quantities an employee can access can also be limited, employers can better keep supply costs down.
Reduced consumption of items can be a cost-saving benefit to the employer.
Cruz said the inventory of the supplies is monitored through a computer system and Fastenal is alerted when supplies reach a certain threshold. That is helpful, he said, because he can restock the machine before the business is out of stock.
Employers, too, can receive alerts. They can program the system to provide a weekly report that details how much stock is used and by whom, giving a better idea of inventory management.
The machines can also be programmed to receive job/work order numbers to provide the business a better sense on how the inventory is being used.
"It allows management the ability to determine where expenses are going...if it is on equipment repairs or specific jobs," said Cruz.
He said, "Hoarding can also be prevented and production increased."
Explaining, Cruz said, there are some employees who will grab a large quantity of supplies for fear of running out. That will leave few, if any, for other employees. And, the person responsible for inventory will need to order the items to meet the needs of those who are short of supplies.
The system allows the employee a limited number of items, leaving plenty for the remaining staff. Also, the personnel and time needed to track inventory is eliminated.
Cruz said it will also reduce the occasions when co-workers snatch up supplies from one another's work station because the machines are easy to access and use.
The system goes beyond the everyday use items, as well.
Cruz said larger locker systems can be added to the vending machine to store larger materials. The locker system can be programmed to track when items are removed and by whom. The employees can also record when they return the item to the locker system, if it is something like a large tool for instance.
"The Fast 5000 is tailored to the customer's needs and lead time for supplies is pre-calculated," said Cruz, explaining some supplies may take weeks in advance to re-stock. But, the computer system accounts for that, ensuring the wait time for supplies is reduced significantly.
Also, he said, as many as 56 common-use items can be stocked inside the Fast 5000.
Cruz can provide demonstrations and training for businesses interested in the system. For a demonstration or more information, call him or store manager Jose Ramos at 837-4868.
More like this story