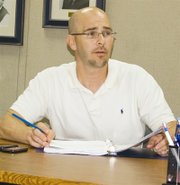 The Port of Sunnyside is looking for a new project manager as Jay Hester has announced his resignation.
Hester, who has been at the post for four-and-a-half years, submitted his resignation last week. His last day at the Port of Sunnyside will be July 31.
During a port meeting last night, Monday, all three Port of Sunnyside commissioners said Hester will be missed.
"It's been a real pleasure working with Jay," commissioner Jim Grubenhoff said. "I'm sorry to hear he's decided to pursue other interests. I know he'll do good in his new adventure."
Added commissioner Arnold Martin, "I sure do appreciate what you've done for the port."
Commissioner Jeff Matson wished Hester well, noting, "When something great falls in your lap you can't ignore it."
Hester declined to say what that "something" is.
"I've turned in my resignation with the port under good circumstances, there's no reason other than another opportunity," Hester said.
He said he couldn't share who the new employer is because "we're still talking about that." Hester would only say that it's a private business in Sunnyside.
"It's been an exciting ride with the projects we've brought forward at the port," Hester said. Those projects have included the Golob Landing business park and a Bleyhl propane expansion.
Hester hinted there may be yet another project in his final weeks at the port.
"Hopefully we'll have some news for the community before I leave," he said.
Hester said he enjoyed working at the Port of Sunnyside and plans to continue calling Sunnyside home.
That means he'll also continue to be involved in community efforts, such as the Sunnyside Airport.
"I'll be heavily involved in civic duties as much or more than I was before," the Daybreak Rotary Club member said. That includes working on behalf of tourism to "encourage growth for Sunnyside."