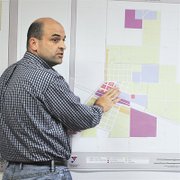 MABTON - The Mabton City Council voted to enter into negotiations with Rural Community Assistance Corporation to conduct an income survey to be completed before Oct. 31.
At a special meeting held yesterday (Tuesday) in Mabton, Andy O'Neill from the Rural Community Assistance Corporation discussed the pros and cons of conducting an income survey and the steps required to complete such an undertaking.
Jon Galow from the Department of Commerce sent a message along to the city council explaining why they may want to consider initiating such a survey.
He wrote, "If a income survey reflected a (median household income) of $30,000 or less, Mabton could potentially be eligible for several hundred thousand dollars in additional grant funding."
Both Galow and O'Neill emphasized that a successful survey does not guarantee Mabton has access to the money, merely would be eligible to apply for it.
Because of that O'Neill said it is critical that the city of Mabton meet with everyone involved in the coming wastewater and water projects to ensure that the money spent on the survey will give them a good return.
He noted that Mabton's current median household income is listed at $34,615.
He told the council they should only proceed if they believe that Mabton's current median household income is less than that number. If Rural Community Assistance Corporation conducts a successful survey, it will stand as official results for the city until the next census.
A successful survey, O'Neill said, would require a response from 38 percent of the city residents, approximately 150 to 200 homes.
The survey will ask at least two crucial questions: How much taxable income is coming into the home each year and how many people live in the home?
O'Neill said they can also include a cover letter explaining why the survey is being conducted.
Councilwoman Sophia Sotelo wanted to know if workshops could be held to assist residents with the survey and O'Neill said it was a possibility, so long as he is there to help the residents.
The survey could cost up to $8,000 to organize, O'Neill revealed, but depending on various factors, that number could be decreased.
The council voted to allow Mayor Angel Reyna to begin negotiations with the Rural Community Assistance Corporation with the understanding that they were not under any obligation to follow through with a survey if they decide the potential results are not worth the cost.