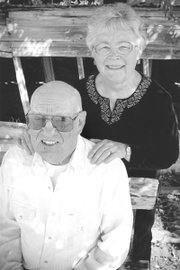 Virgil and Susie Myers of Outlook will celebrate their golden wedding anniversary with a reception this coming Sunday, June 12, at 12:30 p.m.
The 50th wedding anniversary celebration will be at Sunnyside's United Methodist Church.
A family reunion in honor of the couple is planned for a later date.
The Myers' were united in marriage June 11, 1961 in Leavenworth.
The couple has three children, Kevin and Kurt in Idaho, and Kristin in Seattle. They also have six grandchildren.
Mr. Myers has lived in the Outlook area for 75 years and Mrs. Myers has lived there since marrying her husband.
Both are retired. He was a cattle feeder and she was a kindergarten teacher in the Sunnyside School District.