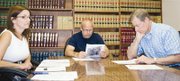 The Lodging Tax Advisory Commission yesterday (Tuesday) forwarded two funding recommendations to the Sunnyside City Council, concerning the community's Fourth of July celebration and the South First Street kiosk project.
The commission forwarded the request from the Port of Sunnyside for the kiosk project, suggesting $10,000 of the $15,000 requested be granted through the use of Lodging Tax funds. The remaining $5,000, it was decided, could be obtained through partnerships with the business community.
"It's not asking a lot," said Commission member Tom Denlea, who said he believes it is important to develop partnerships in projects that will benefit the community.
Because businesses will benefit from tourism generated as a result of the kiosk, Denlea said businesses with a vested interest in the project should partner in the project.
"It sets a dangerous precedent when only the LTAC is contributing hard money to such a project," he said.
Because the kiosk will be located in front of JM Eagle, Denlea wanted to know if that business might be willing to contribute to the effort.
Commission member Chris Gardner said it might be difficult to secure funds from JM Eagle because the request would have to be made at a corporate level, but he thought those seeking the funds might try.
Peggy Beeler, another member of the commission, said, "The worst that could happen is the partnership isn't developed...the additional landscaping is not done."
Gardner said, "It lets others know funding is not going to be given without seeking other avenues first."
The commission also moved forward with a request for $5,000 from the Sunnyside Lions Club. The funding would aid in paying for the community fireworks display held in Sunnyside on July 4.
"It seems the (LTAC) has been the kiddy and they're going after the kiddy," said Beeler.
The other commissioners agreed, stating they have not seen donation boxes in the community, allowing community members to donate funds.
"I'm surprised," said Pam Turner, a member of the commission and the director of the Sunnyside Chamber of Commerce.
The event, agreed the commission, does not meet the criteria for doling out Lodging Tax funds.
The commission said the annual Fourth of July celebration is a community event and tourists do not visit Sunnyside for the event.
"It's about family...I'm not sure it is the best use of LTAC funds," said Turner.
The other commissioners agreed, stating Fourth of July celebrations are not regional events. There are many communities that host celebrations for Independence Day and those who enjoy the local event drive home following the display.
Because Lodging Tax funds are meant to promote tourism, referred to "heads in beds," the commission voted not to recommend use of the funds for the Fourth of July celebration.
"It's $100 for 50 businesses," said Denlea, stating the commission believes the $5,000 could be raised through community and business support of the event.