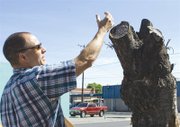 Some may believe they are trimming trees back to allow new growth while taking care of unruly branches, but tree topping is bad for trees and landscapes.
That's according to Brian Cramer of the Washington State Community Forestry Council, who said tree topping can severely damage trees.
"In orchards it is different and there's a purpose to pruning practices. They are pruning for fruit production and management," he said.
Trees along streets and used for landscaping, however, can be starved and die when topped. When new growth does appear, the tree grows back too rapidly to compensate for a lack of leaves.
Foliage is necessary for the growth of a tree. The tree's leaves are needed for the manufacturing of food.
Branches growing below a cut will most often be weaker than the original branch and the tree can die a slow death.
Tree topping, said Cramer, is also dangerous in that the tree can rot and weak limbs may break easily in adverse weather conditions. Also, a tree can become top heavy because the re-growth on trees that have been topped is often thick. This increases the chance of a tree being blown over in a storm.
Also, tree topping can grow to be expensive because the tree must be topped every few years and eventually must be removed when it dies.
"Proper pruning improves the health and beauty of a tree. It allows wind to pass more easily through the branches and creates a more easily maintained tree," said Cramer.
The Tree Care Industry Association says no more than 25 percent of a tree's foliage should be removed in a single season, for instance.
Cramer said it is important to become educated on proper tree management practices to maintain the health and beauty of trees.
"Many do not have the proper know-how for proper pruning and hack away," said Cramer.
The end result is an ugly and unhealthy tree that has been topped.
"The health of the tree is the primary concern, though," said Cramer.
Trees are great for cooling and landscape, as well as soil management.
Cramer said trees provide shade, clean the air and filter water run-off. They also maintain soil stability, reducing dust.
There are several anti-tree topping campaigns underway, including one by the Department of Natural Resources, which is in charge of the Washington State Community Forestry Council.
Because of the various campaigns, community members and city employees can consult with the Department of Natural Resources, the International Society of Arborculture, Washington State University extension services or the Yakima Arboretum for advice regarding proper tree care.
Cramer said there are many resources available to prevent the harmful practice of tree topping.
"Just don't top your trees...there's a difference between directional pruning like that done by utilities and tree topping," he said.
Directional pruning promotes the growth of branches away from utility lines. He said, "It isn't always aesthetically pleasing, but it still promotes the health and growth of a tree."
Cramer said some want to reduce the size of a tree's canopy. The issue, however, is the tree may not be suitable for the location.
If that is the case, he said, the tree should probably be removed and a tree more suitable for the landscape should be planted in its stead.
Not many rural communities have in place ordinances for tree care, but Grandview does.
In ordinance 12.14 the proper management and planting practices are outlined. Tree topping is unlawful on public property.
"Larger cities like Walla Walla and Spokane also have tree ordinances in place," said Cramer, stating it is also important to know your city's laws regarding trees.
He also said to consult with an International Society of Arborculture certified arborist before proceeding to ensure the proper care of a tree.