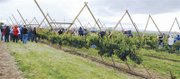 Yesterday was all about cherries as producers and field men toured Lower Yakima Valley orchards and learned about new research and technologies coming down the line.
The Cherry Field Day was organized by Washington State University Associate Professor Matt Whiting who works out of the Irrigated Agriculture Research Extension Center in Prosser.
Whiting and his team began the tour at Wolverton Orchards in Buena. Orchard owner Ray Wolverton began the tour with a look at two-year-old Bing cherries. Wolverton's intentions regarding the trees were to keep training, pruning and picking costs down.
The young trees had wires pulling its branches out to allow sunlight to reach the fruit and easier access to the cherries for picking. Wolverton also revealed that these trees he will try to keep at about 8 feet tall.
Another section at Wolverton Orchards revealed a completely different style of growing cherries. The Upright Fruiting Offshoots style is commonly called the UFO system.
For this system, the cherries create a fruit wall and all lateral growth is removed. The intention behind the fruit walls is to simplify training and pruning, as well as to take advantage of the natural way cherries grow.
A stop at Haak Farm Management in Outlook gave the group yet another way to grow cherries. This field encouraged lateral growth and the rows of trees grew into each other, creating a tunnel effect.
The technique is rather uncommon, John Morton from The Dalles said, adding that the method had been practically abandoned 20 years ago because it required vigorous pruning.
Morton noted that the Haak Farm Management orchards were exceedingly well kept and the style did make for easier picking.
The tour concluded with a series of presentations from researchers at the WSU extension center outside of Prosser.
Professors and graduate students took the group around Prosser fields and revealed research they have been working on.
Nnadozie Oraguizie discussed his work on cherry breeding and genetics work. Oraguizie discussed Bing, Sweatheart, Rainier, Chelan, Early Robin and Selah cherries. His team has been working on breeding various qualities into the fruit, including making them larger, self-fertile, and powdery mildew resistant.
For the Selah cherries, he also revealed that he was working on making them suitable for mechanical harvest, which other researchers were looking into.
Among them were Xiaoqiang Du and Du Chen who are working on a mechanical harvester and Yiannis Ampatzidis, who is working on "a real-time labor monitoring system" designed to record an individual picker's efficiency.
Overall, the trip gave the visitors a chance to learn about local growers and different growing methods, as well as discovering new techniques and technologies that may be available to them in the future.