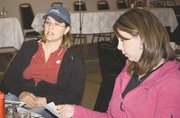 PROSSER - The Brown Marmorated Stink Bug is a foe for all to be wary of, according to Washington State University Extension Services Researcher Gwen Hoheisel.
She spoke late last week to those attending the monthly grape fieldman's breakfast at the Barn Restaurant in Prosser.
Hoheisel said the pest can overwinter in homes, sheds and other structures, as well as in foliage.
The Brown Marmorated Stink Bug originated in Asia, but years ago found its way to the U.S. and has been a problem for farmers primarily in the east. However, the pest is being discovered across the nation and has been trapped in 33 states.
"It aggregates," Hoheisel said, stating the pest can be found in colonies and it is known to generate twice a year.
The effect on commercial production is widespread, she said. There isn't a specific crop susceptible to the Brown Marmorated Stink Bug.
This means hosts can be apples, pears, blueberries, grapes, corn, cherries, soybeans and nearly every other crop grown in the Yakima Valley and Washington state.
So far, the pest has not been identified in Washington. However, Hoheisel told those at last week's meeting it is expected to be found in the near future.
Last year the Brown Marmorated Stink Bug was trapped in several locations of northern Oregon, including Arlington. That community is located in northeast Oregon along the Columbia River.
"It's going to be a mess...I don't want to sound dooms dayish, though," said Hoheisel.
She said it is hard to determine how the local growers will be impacted by the pest. It is enough of a concern that a pheromone specific to the Brown Marmorated Stink Bug has been developed to more easily trap it.
There aren't any natural controls yet in the U.S., therefore growers will need to depend on pesticides. Those pesticides are most effective when the bug is in the nymph stage and Hoheisel said Entomologist Jay Brunner has found Carzol, Danitol, Thiodan and Warrior to be effective.
The Brown Marmorated Stink Bug is easily identifiable once a person has seen it. Hoheisel described it as brown in appearance with smooth shoulders, white bands on the antennae and stripes along the sides of the abdomen.
Traps for the pest are easy to build, said Hoheisel, but they can also be purchased. "You just need the pheremone," she said.
Hoheisel told those present it is advisable to set traps to track the migration of the pest.
She told those present at the meeting there are useful resources for information regarding the Brown Marmorated Stink Bug. Two of those are http://pmtp.wsu.edu/downloads/bmsblD sheet.pdf and http://ohioline.osu.edu/hyg-fact/pdf/FS 3824 08.pdf.