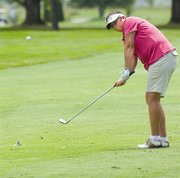 There's no place like home! Just ask Black Rock Creek Golf Course club professionals Scott Galbraith and Justin Bos.
Both, Galbraith and Bos cashed last Monday at a pro-am series competition hosted by the Central Washington chapter of the PGA. The one-day tourney, staged at Sunnyside's own Black Rock Creek Golf Course, was the 11th stop in the 2011 pro-am series, which consists of 28 events in all.
Bos and Galbraith were both standout golfers while attending Sunnyside High School, although more than two decades span the time they were Grizzly linksters. Both, oddly enough, also went on to play for the men's golf team at Columbia Basin Community College.
The younger of the two, Bos, is now Black Rock Creek's assistant club pro. This past Monday he tied for fifth-place honors in the professional division, posting a 2-under-par 70 on his home course.
The low rounds of the day were a pair of 5-under-par 67's, carded by club pros Brady Sharp and Clint Ables. Sharp is the club pro at the Walla Walla Country Club, and Ables hails from Wildhorse Resort Golf Course near Pendleton, Ore. As the first-place finishers in the division for professionals, both Sharp and Ables earned a pay day of $245.
Former Black Rock Creek club pro Jeff Bender, who now represents Golf Universe in the Tri-Cities, tied for third on Monday with a 3-under-par 69. His payout totaled $157.
Bos, by finishing fifth, enjoyed a paycheck worth $53. Heading into last Monday's pro-am competition, Bos and Bender were tied for fifth in the 2011 pro-am series' points standings. Ables sits atop the points standings for the professionals.
In the professional net division (actual score minus handicap), Black Rock Creek's head club professional, Galbraith, tied for runner-up honors last Monday with a handicap-aided, 2-under-par 70. He was awarded $53 for his performance. Canyon Lakes Golf Course club pro Steve Stull won top net honors among the professionals, shooting a handicap-aided 69. That gave Stull a paycheck of $105.
Of the six Black Rock Creek amateurs competing this past Monday, two of the golfers walked off their home course with prizes.
Bob Hicks of Sunnyside placed seventh in the net scoring column for golfers with handicaps ranging from 13 to 28. Hicks shot a handicap-aided 71, earning him $25 in pro shop credit.
Sunnyside's Troy Monholland also came away from the June 6 competition a winner. He received a $50 Les Schwab gift certificate for earning KP honors on a par-3 hole that was designated for golfers with handicaps ranging from 10 to 15. Monholland stuck his tee shot 13'6" from the cup.
The low amateur round posted on Monday was a 1-under-par 71, claimed by Meadow Springs Country Club member Jess VanSchoiack. His pay day totaled $150 in pro shop credit, as well as a "stay and play" package at Wildhorse Resort & Casino. VanSchoiack is atop the amateur points standings in the 2011 pro-am series.