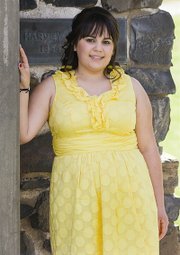 Sunnyside High School sophomore Sarah Berumen enjoys community service and feels serving as the 2011-12 Miss Sunnyside would provide her the opportunity to serve others.
She is a member of the Sunnyside High School Key Club and that is where she says she discovered her love of serving the community.
"The Miss Sunnyside court also appears to have a lot of opportunities to meet a lot of people," said Berumen.
She said she wants to work with the Special Olympics program, if chosen to serve as Miss Sunnyside.
Berumen's uncle, Stephen Schreck, lives with her family and has special needs. As a result, she said she knows the enjoyment individuals like him feel through participation in the Special Olympics.
"They have a lot of fun and I enjoy helping with the event (locally)," said Berumen.
Her parents are Linda Hall and Pete Berumen. She is an only child and says she is close to her uncle. Their relationship, she said, is the closest she has to compare to that of having siblings.
Berumen recently ran for the position of vice president of the Sunnyside High School Science Club. She served as the club's secretary this past year.
She has participated in the local science fair for the past six years and enjoys both volleyball and fastpitch softball.
Berumen said she wasn't on the softball team her sophomore year due to injury, but plans to return to the diamond during the 2011-12 school year.
In addition to school activities, Berumen said she is actively involved in her church youth group, which regularly participates in community service projects.
For the Miss Sunnyside Pageant, Berumen said she plans to perform a monologue. She said she plans to write it, but has not yet done so.
"I want to tap into the skills I learned through participating in drama," she said.
Following high school, Berumen said she plans to attend college to pursue a Doctorate's degree in microbiology and medical research. She said that endeavor was inspired through her experience with science fair projects completed the past two years.
Berumen's sponsors for the Miss Sunnyside Pageant are Hernandez Law Firm, Yakima Chief, Society Hair Salon and the Green Olive.