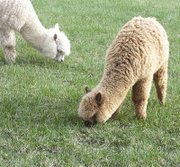 PROSSER - You've seen them full-fleeced and fabulous, now come see them shorn and shapely! The annual spring shearing on area alpaca farms has just concluded.
Area breeders are celebrating their "harvest" with an open house on Saturday, June 11, from 11 a.m. to 4 p.m.
Visitors will be able to see the nearly naked alpacas with a variety of haircuts.
"They're hysterical looking this time of year," said Jennifer Ely of Sage Bluff Alpacas in Prosser. "Most are shorn down to their top-knots. Some of the youngest we shear with bobble heads and pantaloons. They're quite funny looking."
Farms will be open in Prosser, Benton City and Kennewick.
At the open house in Prosser, Sage Bluff will offer farm tours, fiber arts demonstrations, refreshments and more. Their farm store will feature new lines of luxurious alpaca retail items for sale, as well as beautiful fleece in a variety of natural colors.
Alpaca cookies by Taste Of Heaven Baking Company will be for sale to benefit the Prosser Boys and Girls Club.
Free "paca poo" is available for gardeners. Bring your boxes, bags or buckets.
Sage Bluff Alpacas is located at 8401 S. Steele Road, Prosser, between OIE and North River Roads. The can be reached by calling 509-786-4507 or by visit their website at www.sagebluffalpacas.com.